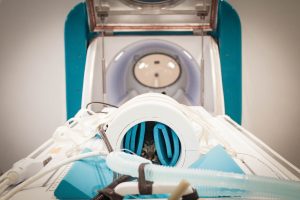 This article was written by Dr. Pamela Stevenson, CVPM, Administrative Director, Veterinary Specialty Practice Alliance and published by Patterson Veterinary in August 2020.
Consider these words from Simon Sinek1, author of  –  The Infinite Game
In times of significant external  change ", how will we do what we are doing in a different world"
"opportunity is what will we be, not how to preserve what we had"
Before any significant purchase, a prudent business owner needs to investigate one or more forms of Return on Investment (ROI). With marketing initiatives, we look at sales or some other KPI to measure ROI. With equipment, we are looking at medical appropriateness for our practice, cost per use, break-even point, the expected life of the equipment, marketability, and overall profitability. These calculations, assumptions, and often gut feelings are part of the due diligence process for major purchases.
What is a significant investment? Capital equipment, by definition2, has an extended useful life, and second, each practice defines their cost limit when a higher level of evaluation is required. It may be $2,500 in one practice, and $15,000 in another depending on the cash flow and profitability of the business.
Begin with asking questions about the equipment:
Will the equipment be a new service entirely or enhance an existing service?
Who else in your community has this service or equipment?
Do your clients already know their pets need this service, or will awareness be required?
How long will it take to earn the purchase price, and will the equipment still be cutting edge?
Do you believe this equipment will improve the lives of your patients and their families?
Next, ask questions about the manufacturer and your sales representative:
How stable is the manufacturer?
What kind of support is available, what hours, and at what cost?
What training does the manufacturer provide, and at what cost?
How about the training for new employees?
How much does your sales representative know about you and your practice and its team?
What is the reputation of the sales team after installation?
Look back at your questions regarding the manufacturer's stability and reputation. Will the manufacturer or distributor representative be around or disappear before the ink is dry on the contract or purchase order? The tiniest company can look extremely professional with a hefty advertising budget. Remember Theranos!3  We are in the relationship business, make sure you trust the company and your sales representative. A small, new company is often worth your investment – just do your due diligence.
Is it time to run some calculations? Not yet, there is more…
Sometimes you are going to buy, regardless. Because you want to and are sure it is a good investment. Other times, you do the ROI calculations, and the equipment is only going to break-even, or operate as a loss. Should you automatically not buy the item? Not necessarily, and here is why.
The Proposal
Let us start from the beginning – the idea, the want, or the proposal.
There is evidence that laser therapy is an excellent and desired service that benefits the patients and accepted by the clients. It is a service that you would like to offer in your practice. If the economy is strong and you need to buy equipment to reduce your tax burden for the year, then the decision is more straightforward.
However, the current economic conditions and unknown impacts on your practice are concerning, and you are not sure it is an appropriate time to buy equipment.
Ask a few questions:
What is the productive life expectancy of the equipment?
Will this equipment and service give your practice a competitive advantage? What about as an employer?
Do you need a section 179 tax deduction this year?
Is this equipment replacing existing, working, equipment?
What is the patient or client's advantage of having this equipment?
Any federal or state regulations that require facility alteration, inspection, or licensure?
Finally – how does this purchase fit in your capital needs planning?
Capital Planning Needs
Capital needs planning – what? Yes, maintaining a Capital Needs List (CNL) is a crucial business tool. This list should include everything from computers, HVAC systems, décor refresh for lobby & exam rooms, aging equipment and facilities, parking lot upgrades & maintenance, and, of course, new equipment and technologies.
The goal of this list is to spend money preemptively on aging hardware and facilities to avoid surprises, reduce cash strain, and plan a budget for practice enhancements. When considering the purchase of equipment – ask yourself where it fits on the CNL? Does it take priority over critical investments such as HVAC units running for one last season? OR will it bring enough profit, enhanced patient care, and happier employees to be worthy of bumping something else down in the priority ranking?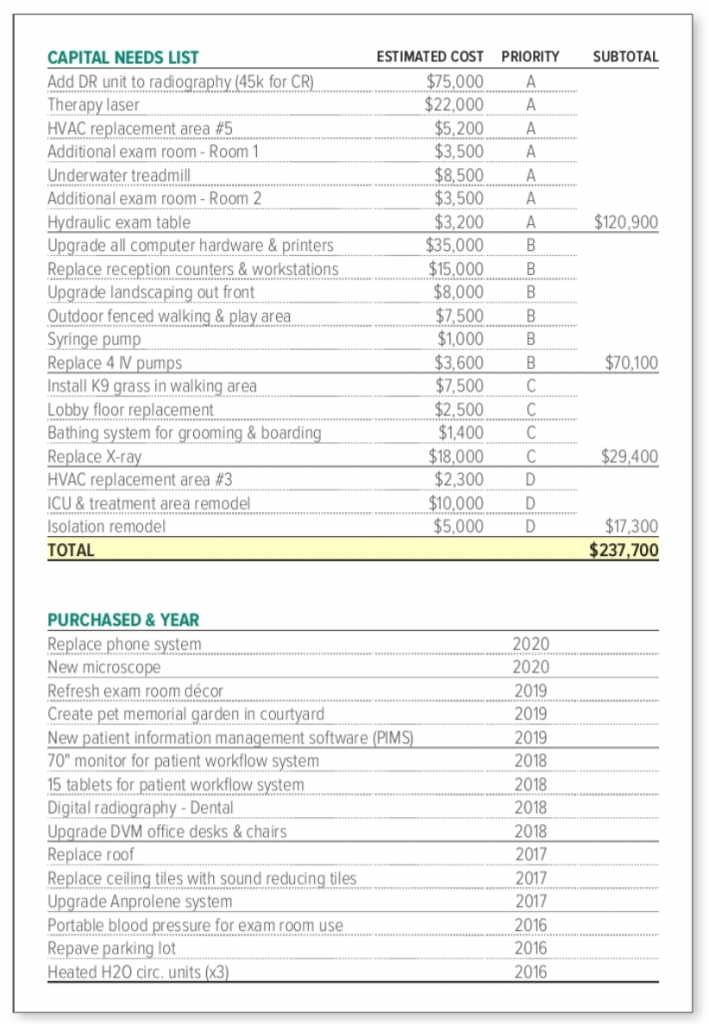 ROI Analysis
Now let's talk about the mechanics of analyzing ROI.
There are several methods to calculate ROI, and some are more complicated than others. The simple workbook embedded in this article is a simple to use calculator for ROI and for determining minimum pricing guidelines.
If you are extra data-oriented, or this is an exceptional purchase, your CPA may be able to conduct higher-level ROI calculations such as annual return (time-weighted annual percentage) or the compounded rate of change (cumulative gains and losses over time3. Here, we are going to keep it simple but thorough.
You will need just 8 data points for the embedded worksheet:
Purchase price
Months of expected life or use before planned replacement
Monthly service maintenance fee (if any)
Hourly wage average of the team using equipment
The time needed for staff to use the equipment, per procedure
DVM production percentage or effective hourly rate
The anticipated number uses per month
Anticipated fee
Make use of the information provided by your sales representative and then customize to your practice, client demographics, and personal beliefs.  A great salesperson knows you and is more interested in your success than making a sale! Finally, be careful not to overestimate the volume or the fee you can charge, especially if you really want the equipment.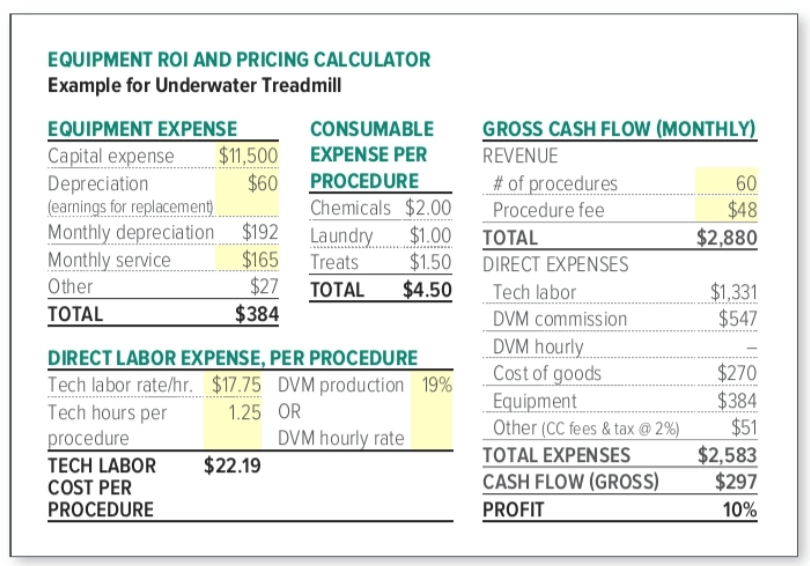 Once the equipment is in place and operating smoothly, hold yourself accountable for the results. If your ROI calculations are accurate – excellent! If you missed the mark, do not beat yourself up – learn the lessons, it is an opportunity for improvement.
A Few Additional Thoughts
Lease or purchase – not always a clear-cut answer. Either way, the ROI needs to be calculated. It is all about the Benjamin's! What are the current interest rates on capital purchases? Is it higher or lower than the lease interest? What level of depreciation does the practice need? Is this a short life expectancy piece of equipment? If so, consider leasing as they are easier to upgrade the equipment.
New or used – it is a valid question. If the equipment has a ten plus year functional expectancy, it is often better to purchase new equipment. A recent lease/purchase ROI analysis with Shawn Miller of Hallmarq Advanced Imaging revealed, "analysis over time documents the total lifetime cost of ownership of a new, high field MRI is significantly less than purchasing used equipment based on lost revenue associated with downtime, lower site preparation costs, and lower labor costs, among others."
There are always "toys" we desire for the practice, and you and your patients deserve them! The therapy and imaging modalities in veterinary practice are continually evolving and applicable in specialty and primary care hospitals. Not too long ago, underwater treadmills, therapy lasers, and MRI's were found only in specialty hospitals. Consider taking the leap into more advanced equipment and increasing the service differential in your community.
Regardless of the type of equipment, it must be profitable on its own, or support the practice profits by creating additional services. Have a purchasing process and a plan. Work closely with sales representatives that know you, your team, and your practice mission to acquire equipment and keep pace with our ever-changing technology. And have more fun at work!
Author: Dr. Pamela Stevenson, CVPM, Administrative Director, Veterinary Specialty Practice Alliance
References:
1 Simon Sinek –  The Infinite Game
This article originally appeared in Patterson Veterinary's August 2020 edition.