Hallmarq takes customer success very seriously, which is why they recently promoted Mike Torres to the role of Global Vice President of Customer Success. With Hallmarq since 2017, Mike brings together passion and a wealth of experience to deliver the best possible value for every one of our customers. His mantra:
"Hard work will never do you wrong"

Mike Torres, Global VP Customer Success, Hallmarq Veterinary Imaging
is inherited from his parents who emigrated from Colombia to the US in the early 1970s. As a first-generation immigrant, born on American soil and with most of his life lived near Chicago, Mike overcame many cultural barriers in order to be accepted as the only Colombian American in both his school and neighbourhood.
However, he firmly believes these experiences have shaped the person he has become today and understands the importance of fairness, empathy, kindness, and diversity. Being different does have its perks and, thanks to his family heritage, he speaks Spanish fluently and brings a unique perspective to Hallmarq's leadership team.
Seeking a New Challenge
With a career that started out in human medical device manufacturing, Mike's background includes 17 years of driving growth and success of a leading healthcare technology company. He has developed and led teams in customer service, technical support, field service, production, logistics, regulatory and safety, quality assurance, and business development. In addition, he also holds numerous professional certifications in business management, operations, and healthcare technologies and has an Executive Master's Degree in Business Administration from Strayer University.
It's fair to say that he was well qualified for the job when Hallmarq reached out to him with a new challenge and states: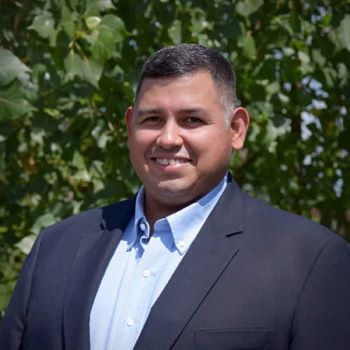 "I was immediately drawn to the company's core values and opportunities to support clients and their patients. The Customer Success team's No.1 priority is to enable access to our technology, making sure that clients obtain the scans they need to deliver a diagnosis and action a treatment plan."

Mike Torres, Global VP Customer Success
Q-Care Customer Support
Driven by customer interactions, Mike takes immense pride in heading up Hallmarq's Customer Success team, and with good reason. Typically, companies operating across different geographic areas tend to be more siloed. However, with dedicated US and UK/European teams, members are integrated across both regions to maximize operational efficiency.
As part of Hallmarq's unique customer program, service representatives typically answer client calls within 30 seconds to begin problem-solving. And, with omnichannel support, anyone on the team can support clients anywhere in the world, if they have an internet connection. The more difficult cases are discussed with the wider team of in-house experts for speedy resolution with this collaborative approach utilizing key strengths cross-company.
A Proactive Practice
The team is not just responsive, however. Being proactive is vital to preventing problems before they arise, and customer sites are continuously monitored for potential issues. This proactive approach extends beyond helping clients with their imaging technology. Mike happily admits that a background in sports has taught him important lessons in leadership and teamwork with these key skills transferable to the workplace. A keen competitor in team sports when younger, he also learned values such as perseverance, respect, accountability, resilience, and patience. All valuable traits to have when working to resolve issues faced by the customer.
The Customer Success team can help from a clinical perspective, too. Training for imaging and help with positioning and software to produce the best imaging outcome is readily available as needed. Taking a sample of the customer's own clinical images, for example, helps the team identify which operators might need more on-site training and thus increase customer expertise in image capture.
A Dedicated Community of Partners
Unlike the traditional, transactional client-vendor relationship, Hallmarq's business model focuses on service, with each member of the team taking on the role of partner to each client. Mike says:
"Team Hallmarq is made up of some pretty smart people; each one of them is an expert in his or her field. We employ licensed MRI technologists, engineers with master's degrees in R&D and computer systems, and employees with experience in both human and veterinary medical technology. Many current employees were Hallmarq system operators themselves before coming to work with us and this diversity serves the customer well."

Mike Torres, Global VP Customer Success, Hallmarq
Hallmarq has a great platform for connecting providers, too. Mike has witnessed the power of the Hallmarq community by seeing clients help each other in Hallmarq's social groups. For example, the customer-only Community Area offers a host of resources, and the company's Facebook page keeps customers, staff and stakeholders up to date with what's currently happening in the advanced imaging marketplace.
Whilst the focus at work is all about guaranteed uptime of Hallmarq's advanced imaging systems, Mike does enjoy some downtime for a work-life balance. Family adventures are especially important to him. With his 2005 mustang GT convertible, radio control vehicles, fishing, audio technology, gadgets, and guitars taking up what little spare time is left. His engineering skills are not just applicable at work and he confesses,
"I've been an engineer forever."

Mike Torres, Global VP Customer Success
Which is useful when it comes to restoring cars and guitars; both of which he is passionate about. Mike freely admits that the Mustang is a never-ending project albeit one which puts a smile on his face. That has to be the upside to a hard week at work!