November saw Hallmarq open our much-anticipated new manufacturing facility in Chicago, USA. Its acquisition follows hot on the heels of an increase in space at our UK Head Offices earlier this Spring. This continued expansion is in response to growing demand for our advanced veterinary imaging systems, including Standing Equine MRI, Vision CT, and our Small Animal MRI machine.
Driven by demand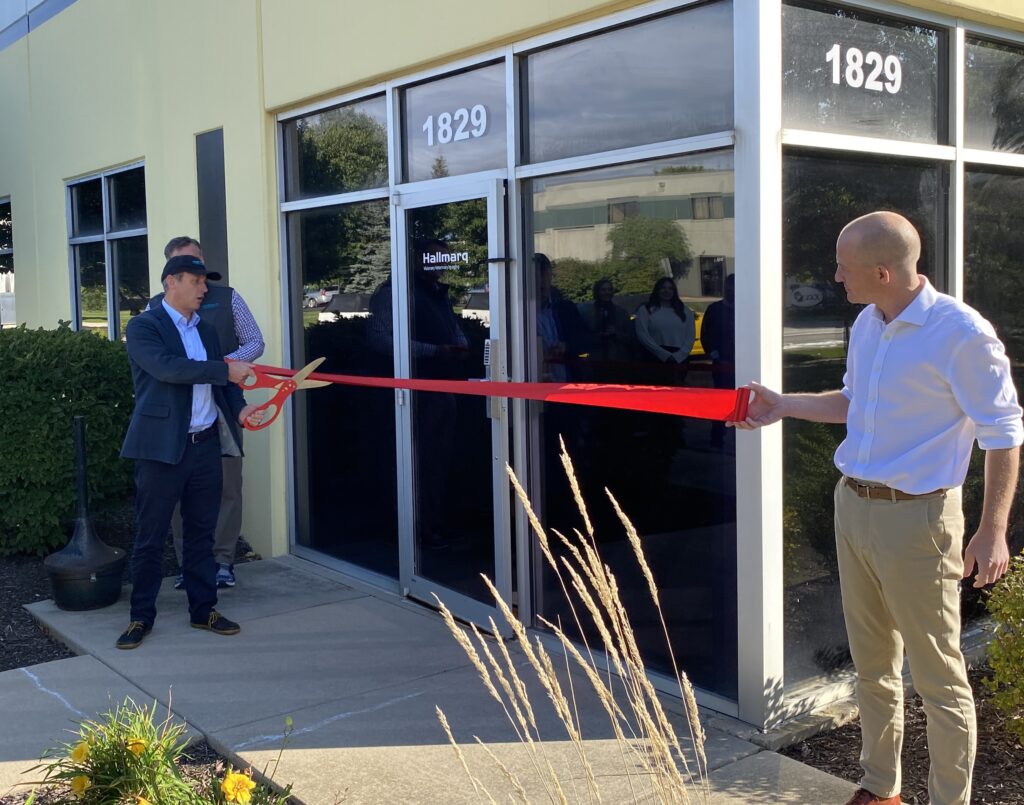 Demand for Hallmarq's advanced veterinary imaging systems has grown significantly over the past few years. We've continued to evolve to meet this demand with state-of-the-art systems tailored to veterinary patients. Alongside our zero-helium small animal MRI machine, our Standing Equine MRI and new Vision CT scanners are particularly in demand. As a result, the new manufacturing facility is over twice as large as our previous US premises. In addition to providing space to stock our full range of products, and streamline deliveries, the new premises also offer a range of green improvements.
Streamlined for Seamless Service
Situated just two miles from our original Chicago premises, Hallmarq's new manufacturing facility offers a whopping 6,300 square feet of space. This will enable us to stock each of our systems and modular options under the same roof. The new site allows for us to streamline production and delivery, saving both time and money for us and our clients. The MRI and CT machines can now be assembled, adapted, and tested on-site before being shipped to customer sites. Mike Torres, Global Vice President of Customer Success at Hallmarq Veterinary Imaging, states:
"The ultimate goal is to provide 'just-in-time' deliveries. Having the new warehouse facility means that from the moment that the customer signs a contract, to the moment they sign system acceptance, the process is seamless." He adds, "Increased space, the ability to stock parts and product lines and carry out light in-house assembly all negate the need for any unwanted stress for the customer. When their site is ready then so are we!"

Mike Torres, Global Vice President of Customer Success, Hallmarq Veterinary Imaging
Faultless Functionality
Alongside increased space for product storage and assembly, the new building could provide up to 50% more room if a mezzanine floor is added. This feature allows for future growth with reduced environmental impact. Additional advantages of the new premises include an enhanced power supply and climate control. These are critical for thorough testing and quality control protocols, ensuring faultless functionality as the systems are integrated into veterinary practices around the globe.
ESG Aware
In line with our long-standing commitment to sustainability, the new manufacturing facility also features green improvements, including LED lighting throughout. Hallmarq was awarded ESG Excellent in recognition of our environmental commitments last year. As such, we continue to review, optimize and audit our processes to minimize environmental impact. Maintaining this holistic approach supports not just our customers and their patients but also Hallmarq's staff, communities, and the environment as we work towards carbon neutrality.
This latest expansion comes several months after we expanded our UK premises and reflects the continued growth in demand for our advanced veterinary imaging systems. We remain steadfast in our unwavering commitment to offering state-of-the-art advanced imaging for veterinary patients, while prioritizing sustainability as the business grows.
INTERESTED IN VISIONARY VETERINARY IMAGING?
See Vision CT in Action