What happens when you're an equine vet with concerns over anaesthetising your own horse for an MRI scan? Well, in the case of John and Tonya Park, owners of boutique veterinary practice, Park Equine Hospital, you install your own Hallmarq Standing Equine MRI and rest easy!
Located in the heart of the Kentucky Bluegrass, Park Equine Hospital offers primary care to local horse owners and advanced services to patients in Kentucky and surrounding states. They pride themselves on providing a personal service, tailored to the needs of each patient. Whether it's the family pony or the competition horse, this seven doctor practice offers the same level of care to all their customers.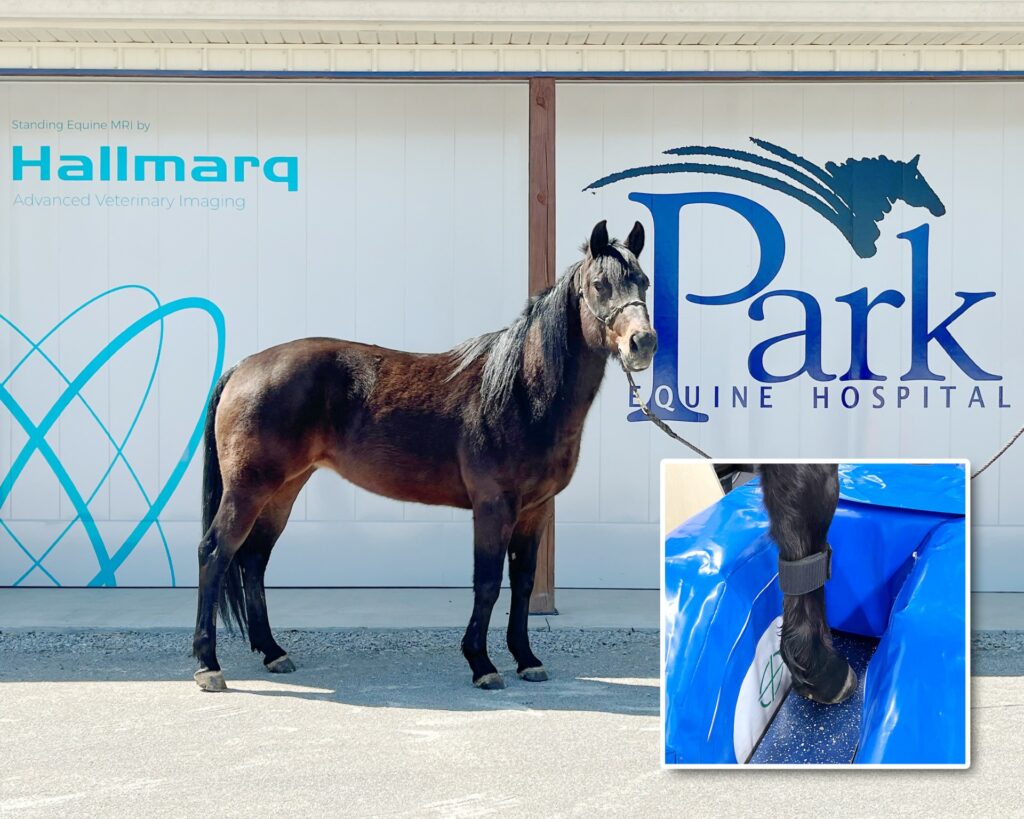 Down MRI wasn't an option
Smaller than your typical equine veterinary practice, John and Tonya Park like to think big. Opting to install a Standing Equine MRI was both a business decision as well as a personal one. With a special interest in equine surgery and lameness, John says:
"We are pleased and excited to offer Hallmarq's Standing Equine MRI here at Park Equine Hospital. This high-power imaging modality is an extremely beneficial tool for all horses, especially for sport and performance horses. When one of our personal horses needed an MRI, we didn't want to lay it down under general anaesthesia. After hauling five hours to the nearest standing MRI, we decided to partner with Hallmarq to offer a safer option to horse owners here in central Kentucky,"

John C. Park, DVM and owner of Park Equine.
With standing MRI, high quality images are captured with the use of light sedation instead of general anaesthesia. It was this safety aspect that really appealed to the owners. The standing option enables early and accurate diagnosis with much less risk to the horse, which can safely return home the same day.
Enabling a definitive diagnosis
Standing MRI can also improve the ability to identify preexisting conditions, an important step in ensuring horse safety and welfare. Acquiring detailed images of the distal limbs, or everything below the knee and hock, has proven to be diagnostic in over 90% of lameness cases. Injuries are often visible weeks before they can be seen on X-ray. Quick, safe and proven diagnosis helps vets to make informed treatment decisions. In turn, they can then provide owners with more definitive information on prognosis and their horse's ability to return to work.
Avoiding the treat-repeat cycle
Invariably a cycle of trial and review, lameness diagnosis traditionally relies on a slow process of elimination, with endless rounds of box-rest and expensive treatment options. With standing MRI however, this can make a significant difference for the competition rider contemplating an event within the coming weeks. Local referring vets now have access to the unique technology afforded by the Standing Equine MRI to diagnose and pinpoint problems.
Accessible advanced diagnostics
Park Equine offers ambulatory and in-house services for general medicine, sports medicine, lameness, general reproduction, advanced diagnostics and comprehensive elective and emergency surgery. The addition of standing MRI complements the other diagnostic tools available in the hospital's diagnostic suite, which includes digital radiography, endoscopy, ultrasound, acupuncture, shockwave and regenerative laser.
For more information about Park Equine Hospital click here