Hallmarq and ESG – an Introduction
With a mission to improve the lives of animals and the people who care for them, Hallmarq strives to increase access to advanced imaging technology through awareness, education, and affordable and safe veterinary products.
"In supporting our customers, we recognise that how we do business is as important as what we do. Internally, we work to minimise the environmental footprint of our products and services, whilst investing in our employees to keep them safe and help them develop their careers. Externally, we work collaboratively with our customers and suppliers to provide innovative technologies that benefit animal health."

Mick Crosthwaite, CEO Hallmarq Veterinary Imaging
In bringing together the different aspects of our sustainability programme, we work to manage our business risks and the impact we have on the world and the communities in which we operate. The principles that guide this approach are:
Environmental
We recognise the need for all businesses to be mindful of the effect they have on the environment and are committed to reducing our own environmental impact. We strive to understand and embrace the challenge of caring for our planet.
Social
We work to create an inclusive culture to help our people grow and succeed in a safe working environment that supports continued health and wellbeing, in addition to supporting and encouraging the next generation of leaders in our field.
Governance
We maintain high standards of corporate governance and are committed to conducting business responsibly. We deliver transparency on standards and values around how we do business and what we and those we work with can expect
The Environment
Our Green Group is formed from an international cross-functional group of employees from different departments, who work hard to implement our environmental initiatives. Positive behaviour amongst colleagues and peers is encouraged and promoted, with the entire company behind our mission to be environmentally responsible.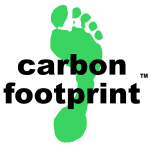 Whether shipping carbon-neutral, using recycled consumables, banning single-use plastics or sourcing our energy supplies from renewable sources, we endeavour to minimise the impact of our business on the environment in whichever way we can. We track the following metrics and have initiatives to try and reduce these each year:
Business travel – including miles by air and driven by car (both fossil fuels and electric)
Freight – including miles by air, sea and land
Helium – in litres (used for superconducting magnets at customer sites)
Waste – in tonnes if we can't recycle, and in skips
Recyclables – in tonnes.
In addition to what we track, we also encourage a culture of awareness and responsibility both in our offices and for those working remotely. Single-use plastics are actively discouraged; reusable water bottles and coffee cups are the norm and packaging, wherever possible, is reused or recycled.
Offsetting annual CO2 emissions
There is no doubt that restrictions placed upon us during the height of the 2020-21 pandemic resulted in a significant reduction in our CO2 emissions from global travel.
Despite this enforced grounding – and with overwhelmingly positive results for the environment – we have always recognised the need for a commitment to reducing our carbon footprint. We carefully monitor energy usage, and support projects that help combat climate change, as well as care for local communities.
We've planted hundreds of native broadleaf trees at schools local to our Head Office in the UK, participated in beach cleans in a bid to reduce the plastic in our oceans and, latterly, supported reduced deforestation in Brazil through Carbon Footprint's America's Project.
Social
Our people:
As our greatest asset, we believe that our employees are proud to work for a company recognised as industry leaders. As pioneers in changing the face of lameness diagnosis around the world, we continue to innovate with a diverse workforce that brings a broad range of perspectives and experience.
This diversity enables us to make decisions that are right for our customers, and which exceed expectations in an environment that fosters growth and learning.
Our values:
Since its inception two decades ago, Hallmarq's aim has always been to improve animal health and this key concept remains at the heart of all we do. A shared pride in our work, never losing our curiosity, and cultivating partnerships around the world are just some of the core values which help drive our decision making.
These shared values form the basis of our company culture and help define how we conduct ourselves and our relationships with our stakeholders.
Employee Engagement:
A shared sense of purpose unites our global workforce, and we work closely to create an inclusive culture with continued investment in our people to help them succeed. Essential to uniting employees is our mission statement, central to aligning our thinking and key to driving the difference that we strive to effect:
"Improving the lives of animals and of the people who care for them."
A sense of belonging for all employees is key to them feeling included and valued. Feedback and listening are critical parts of this. Six-monthly staff surveys are implemented, providing a quantifiable insight to the Board and senior leadership team who then build action plans to address concerns highlighted.
Health and Wellbeing:
Our Health & Safety function is pro-actively managed to ensure the health and wellbeing of our employees whilst continuing business operations and supporting our customers.
Throughout the pandemic, we have implemented covid-safe working spaces for our manufacturing sites. Those who were able to work from home were actively encouraged to do so and a hybrid working model has recently been introduced. Health and safety training is provided to all employees and risk assessments are reviewed to ensure they remain current and accurate.
Our communal areas allow for interaction away from the screen for improved mental health and wellbeing.
Diversity and Inclusion:
Respect for the individual and a culture of inclusivity is core to our company values. We aim to foster and encourage a culture where difference is valued, and each person is recognised for the contribution they make.
Within our six-monthly staff surveys, we ask everyone to score how Hallmarq encourages diversity and minimises discrimination. This key metric is tracked and reported to the Board.
We monitor the gender composition of our workforce and report this to the board every month, tracking:
Male / female split across all staff
Male / female split across managers and directors
Male / female pay variance across all staff
The Board is committed to a range of actions to help increase the visibility of our approach.
In 2022, we are proud to partner with Veterinary Woman as headline sponsor and global diversity champions. In actively supporting this mission, we aim to create a place that encourages equality, and where women can source the information needed to help them reach their potential.
Continued Professional Development (CPD):
Quarterly reviews with Line Managers are implemented for all employees, with the opportunity for training and professional development to be discussed and implemented.
As part of these reviews, employees are encouraged to access online courses and tutorials, with bespoke training packages and pathways identified and developed for different roles in the organisation. These capability reviews ensure we have the skills needed to deliver long-term sustainable growth for both the individual and the company.
Human Rights & Modern Slavery:
Our Human Rights Policy states our intent to be inclusive, supportive, and safe. We expect every employee to adhere to the spirit of our policy and it is fully supported by our Board. All members of the Executive Committee take responsibility for ensuring implementation.
We are committed to preventing acts of modern slavery and human trafficking from occurring and have a zero-tolerance approach to all forms of modern slavery. We expect our suppliers to adopt the same approach.
Our Community
STEM Outreach Project:
We are committed to working with local schools to promote Science, Technology and Engineering subjects within the veterinary profession. Our job is to support and encourage the next generation of leaders in our field.
As passionate advocates for science, our STEM Ambassadors actively participate in programmes that educate, encourage, and inspire young people from primary school age upwards, to think about science as a career.
Secondary Schools:
Hallmarq offers an annual work experience placement to a young person thinking of entering the industry. Through active engagement in cross-company activities, we aim to ensure a rounded experience that affirms their choices.
University Placements:
In 2020, third-year Medical Engineering Student Annabelle joined us on a Year in Industry placement from Cardiff University.
Working alongside our Operations Team on product refinement, she describes the opportunity as invaluable.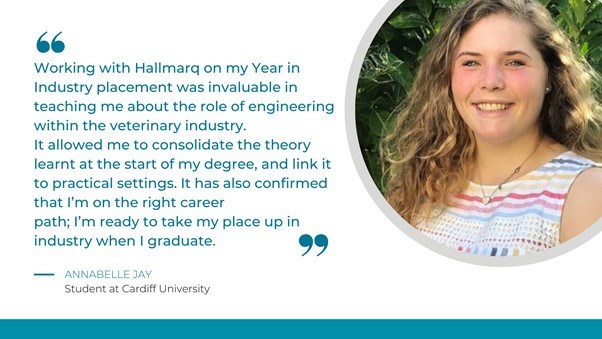 Governance
Governance is an important element of our Board environment. Supporting how we do business and serve our stakeholders, we aim to be relevant, authentic, and meaningful.
Board Oversight:
On a monthly basis, the Board reviews a register of risks and considers possible new risks to the business.
The delegation of authority is formally documented and published across the business to ensure contractual and financial commitments are only made by authorised individuals.
The audit committee works with the company's auditors to oversee accounting policy and review the company's annual accounts.
Staff pay is overseen by the Remuneration Committee consisting of members of the Board and drawing on external consultants as required to ensure appropriate pay levels in the business.
Companies Act:
The Board of Directors strives to operate at the highest standards. Board members are required to disclose any conflicts of interest and adhere to their fiduciary duties as defined in the Companies Act 2006.
Anti-bribery and Corruption:
Our Code of Business Conduct and Ethics is available electronically to all employees and is also included in the Staff Handbook. It clearly sets out how we do business and what we expect of ourselves and those we work with. It covers topics such as bribery and corruption, hospitality and gifts, human rights and modern slavery and gives advice and guidance for dealing with concerns, including the contact details of a confidential and independent whistle‑blowing service.
Privacy and Data Protection:
We have a Global Privacy Standard which sets out the principles underpinning our approach to handling personal data. Our commitment to UK based employees regarding our handling of their personal data in compliance with the GDPR is set out in our GDPR Privacy Notice for Employees.