Hallmarq's award-winning 1.5T Small Animal MRI is now installed at Hawaii based Veterinary Emergency and Referral Center (VERC). Part of the Ethos Veterinary Health network, VERC offers 24-hour emergency and specialty care for patients throughout the Pacific Rim. The installation is the first MRI of its kind in Hawaii, increasing access to advanced imaging and supporting their neurology service, led by Hawaii's first veterinary neurologist, Dr. Baye Williamson.
Remote Operations – the Complete Solution
Consistently used on small animal patients at VERC since January 2022, Hallmarq's 1.5T MRI is an integral diagnostic tool for its neurology services. VERC is also the first Hallmarq site to use its Remote Operation Service (ROS). Available as an add-on to their Q-Care customer support program, this subscription-based service provides easy remote access to licensed MRI technologists for the operation of their Hallmarq small animal MRI machine. The service delivers excellent image quality, time efficiency, real-time support, training, and relief from staffing instability and shortages.
"Having the first and only MRI on the island is a huge game changer. It allows us to better serve the pet- loving community, not only on Oahu but throughout the Hawaiian Islands."

Dr. Baye Williamson, DVM, DACVIM, Veterinary Neurologist at VERC
Veterinary Specific for Superior Image Quality
Hallmarq's 1.5T MRI is the latest in small animal technology for first-class images. The V-shaped patient bed and 1-meter-long V-shaped spine coil, enable better patient positioning. This helps boost image quality when compared to the flat spine coils used in human MRI machines. They also enable the detection of more subtle changes to soft tissue structures.
Designed specifically for small animal anatomy, the 1.5T high-field system delivers a complete imaging solution for all breeds and sizes. Dedicated hardware and software optimize image quality, and 16 channels allow for more views and faster scans to detect brain and spinal cord diseases, skull, nasal, orbital, cranial and vertebral anomalies, genetic malformations, and stifle or shoulder diseases.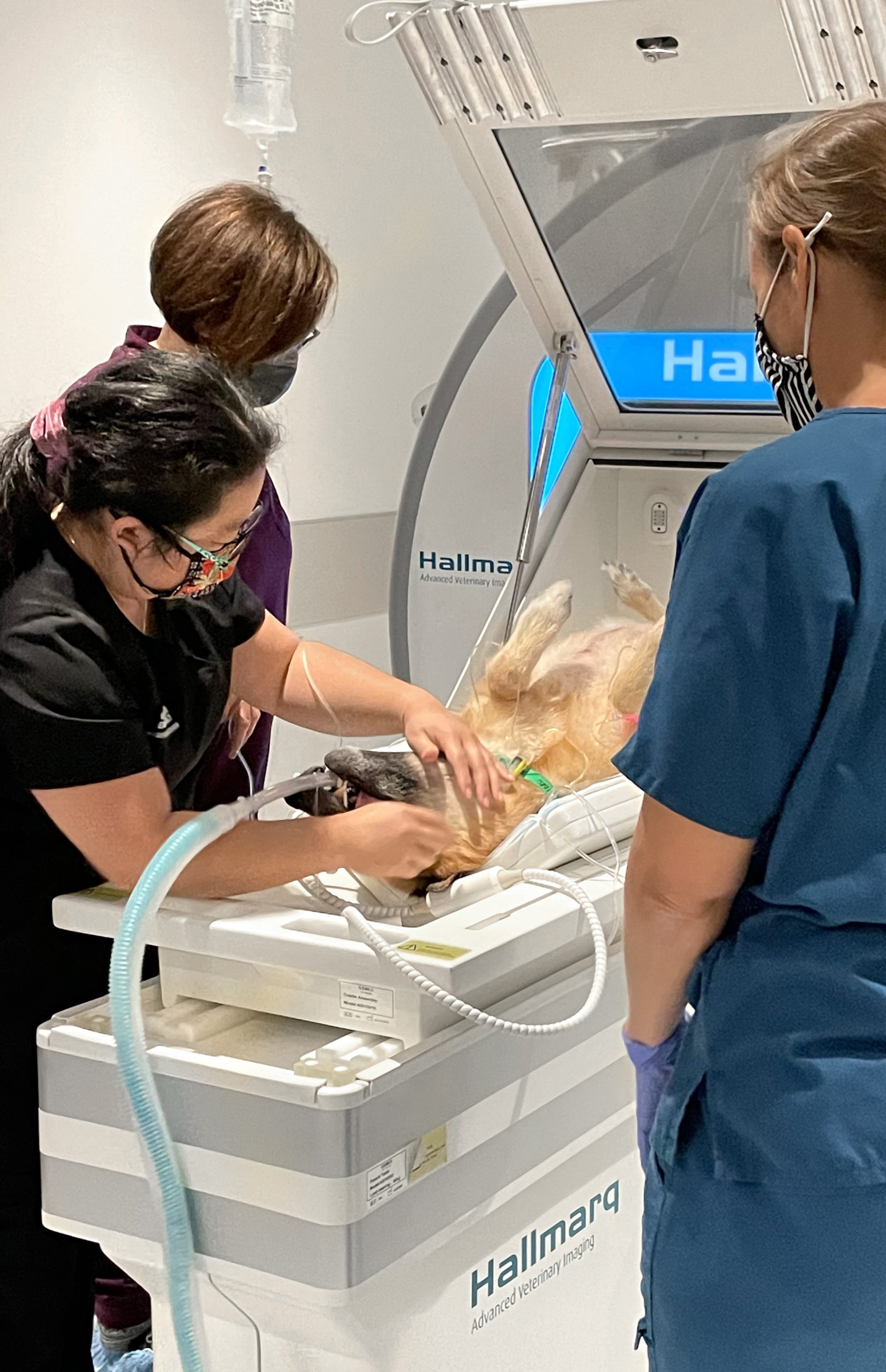 "The addition of the Hallmarq MRI significantly improves our ability to diagnose and treat small animal pets with brain and spinal cord abnormalities. We chose Hallmarq's MRI because it is designed specifically for small animal patients and the image quality is superior to other units we evaluated for our practice."

Dr. Erika Sox, DVM, DACVIM, VERC Associate Medical Director
Maximizing MRI Uptime
Veterinary-specific coils and sequences, along with the ability to use two coils simultaneously, allow for excellent images of those difficult to reach areas – like the brachial plexus. Hallmarq's unique dual coil system provides a significant boost in signal intensity across larger body regions allowing fast scan times and pristine images of superior diagnostic quality. The Hallmarq system features a unique built-in radio frequency (RF) shield that reduces project cost and complexity, eliminating one of the key barriers to veterinary practices. In addition, this feature allows clinicians to access their MRI room during scans thus increasing patient safety.
Like every Hallmarq customer, VERC receives live support and continuous online monitoring of more than 100 parameters using state-of-the-art technology designed to maximize uptime. With Hallmarq's Remote Operations Service, VERC completes a quick service request form, provides a few details about the patient study, and Hallmarq Remote Operators will be available in as little as one hour.
"Hallmarq's Remote Operation Service is a huge bonus for the hospital. It frees up my technicians from scanning and allows them to focus on patient monitoring or performing other tasks for our service. I expect to see our caseload grow tremendously as word grows about our neurology service and MRI capabilities."

Dr. Baye Williamson, DVM, DACVIM, Veterinary Neurologist at VERC
Collaboration aids Clinical Excellence
Hallmarq's ROS is a collaborative partnership between their Remote Operators and the customer's own onsite clinicians. As licensed MRI Technologists with veterinary-specific training and experience, they work together towards the common goal of obtaining the best images possible for the benefit of the patient. This allows VERC to prioritise precious labor resources and reduce the number of onsite staff required to operate the MRI. During the imaging study, both parties can communicate freely via Voice over Internet Protocol (VoIP) or chat, where real-time changes can be made to imaging protocols, based on individual patients.
"Hallmarq is committed to providing support and service to keep our MRI up and running – something that is often difficult in the Hawaiian Islands, but crucial to maintaining access to gold-standard care. Having the Hallmarq MRI on-site, along with a highly trained team of professionals to operate and interpret studies at VERC, ensures rapid access for our community when pets need this type of imaging and will certainly elevate the level of care we can offer."

Dr. Erika Sox, DVM, DACIVM, VERC Associate Medical Director
Specialist Imaging by MRI Technologists
As part of Hallmarq's Global Customer Success Team, Emily Miry works as a Customer Training & Support Representative in North America. A licensed MRI technologist with years of experience in animal MRI and CT, Miry is VERC's dedicated primary MRI technologist at Hallmarq.
"Hallmarq's MRI machine is just one piece of the puzzle. Providing VERC with MRI technologists who operate it to the best of the MRI's abilities is the piece that is often missing when very specialized imaging studies are needed."

Emily Miry, Hallmarq Customer Training and Support Representative
In addition to lower onsite staff costs (around half the cost of a full-time salaried employee), capped monthly payments help standardize and stabilize the overall cost of MRI installation and help reduce some of the operational risks associated with implementing an MRI service.
Find out more about VERC here.