Our very own Dr Steve Roberts has been shortlisted for The Bridge Club Bright Minds Award which recognizes those elevating veterinary care. Nominated for the Practice Game Changer category, Steve far and above met the criteria the Bright Minds judges were looking for:
An individual or team focused on making the practice better by addressing the challenges faced daily by developing new workflows, strategies, and approaches to ultimately advance veterinary medicine.
Decades of Dedication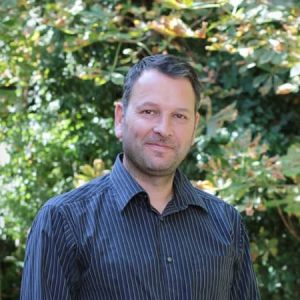 Dr Steve Roberts is an experienced MRI physicist who has developed many veterinary MRI scanners and associated imaging applications. His contribution to veterinary medicine spans over three decades. As Chief Technology Officer at Hallmarq Veterinary Imaging for over 20 years, Steve was instrumental in the development of the world's first Standing Equine MRI scanner with over 300,000 horses scanned worldwide to date. He also led the team that developed the world's first zero-helium 1.5T veterinary-specific small animal MRI scanner.
The Master of MRI
For many pet owners, their cat or dog is an extension of the family, and a fast, safe, and accurate diagnosis is crucial to their treatment plan. Cats and dogs do not have the same anatomy as humans, and imaging pets across a range of sizes and breeds presents unique problems. Older, adapted human MRI machines are not pet-specific, and thus image quality and ease of use are compromised. Taking these factors into account, Steve led the R&D team who worked tirelessly to produce a small animal MRI that is pet-specific thus enabling vets around the globe to make a more precise diagnosis.
This unique design was recognized in the 2021 Queens Awards for Innovation. Veterinary-specific coils and a V-shaped patient bed mean that the patient is better positioned from the outset saving time and money for both the vet and pet owner. In addition, the inbuilt radiofrequency shield negates the need for a purpose-built room to house the system; a key barrier for many looking to offer advanced imaging services to their patients.
A World First
In 2022, Steve also led the team that developed and launched the world's first zero-helium 1.5T small animal MRI. With helium a finite resource, there can be significant challenges for vet practices to source their cryogenic needs. In line with Hallmarq's ESG principles, this new generation small animal MRI is 100% helium-free. It not only delivers enhanced image quality over and above a refurbished human system but enables small-animal vets to future-proof their practices without any compromise to that quality.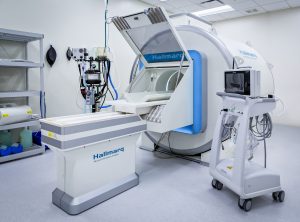 The introduction of zero-helium MRI is an absolute game changer for veterinary practices. Offering a sustainable alternative, ensures they have the advanced diagnostic capabilities they require while being conscious of the industry's impact on the environment.
Sharing the Science
Dr Roberts also has significant clinical MRI experience and played a key role in developing one of the very early 3T human MRI scanners during the 1990s. He has a wealth of knowledge on the subjects of MRI technology and imaging applications, particularly with reference to their optimization for veterinary applications. Recently, Steve was invited to give two State of the Art presentations at the ACVIM Congress in Philadelphia. He is a keen STEM Ambassador, regularly giving talks to students at local schools and colleges, and is passionate about educating young people who are the future of veterinary practice. The focus for Steve now is how to adopt AI within the industry whilst not losing the human touch that he and his team have strived so hard to retain.
By addressing real concerns of the industry, and providing affordable and sustainable solutions, there is no doubting Steve's ongoing contributions to making veterinary practice better. We think you'll agree… when it comes to Bright Minds, Steve is right up there with the best of them!
DO YOU THINK STEVE IS A PRACTICE GAME CHANGER?