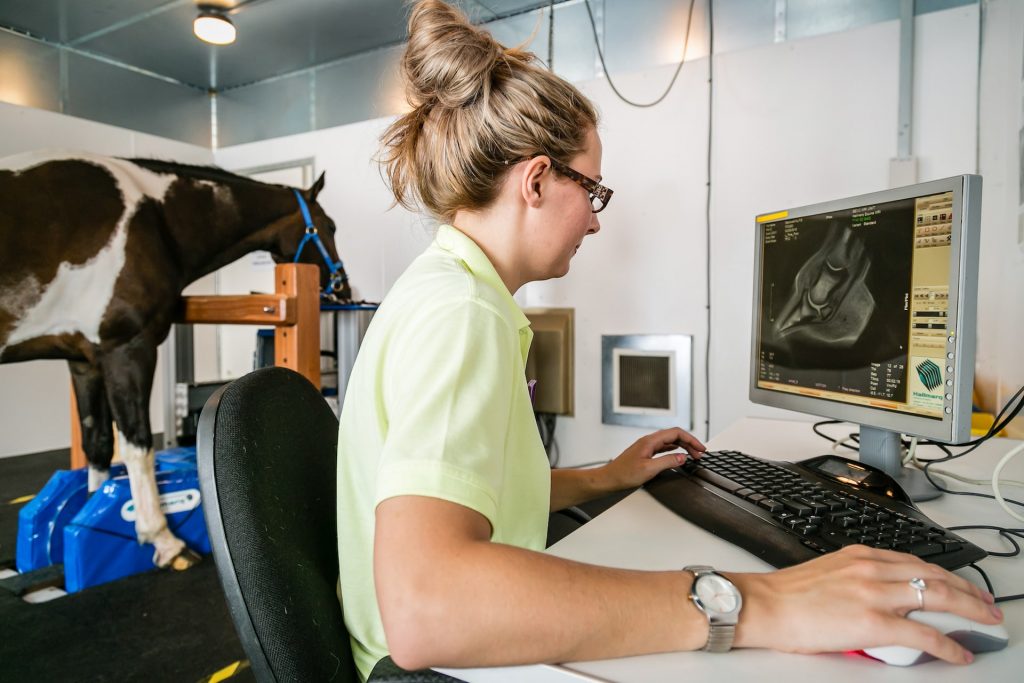 Introduction
MRI is within reach
Standing Equine MRI (sMRI) is available for your practice – for everyday imaging cases
Offer the gold standard for imaging quickly, safely and conveniently
Diagnostic in over 90% of cases, Standing Equine MRI accurately identifies the specific cause of lameness.
Conveniently bring all the benefits of MRI to your practice without the hassle or risk of general anesthesia.
Backed by Hallmarq Q-Care, you can reach profitability with just 5 cases per month.
Providing clinicians better guidance for treatment
Benefits of sMRI
More Accurate Diagnosis
Comprehensive MRI diagnosis allows you to evaluate the integrity of all the structures within a region, helping you make a more informed decision for treatment.
Informed Prognosis
Understand the full extent of the injury based on the degree of pathology in order to determine how aggressively you approach treatment.
Quick & Affordable Answers
Stop the guess work. Utilizing MRI as 'first line' imaging gets you an answer quickly and affordably. Protect the owner's investment by definitively ruling out costly conditions that may not be causing any signs of lameness.
Visualize Tissues & Densities
Far beyond radiography, ultrasonography and even CT in some cases, standing equine MRI is capable of assessing both bony and soft tissue injuries with a single procedure.
Effectively Guide Treatment
MRI is accessible to a wide range of clients and patients and works best as an initial or 'first line' imaging modality to guide treatment decisions from the beginning of therapy and rehabilitation.
A Clear Picture of Chronic Lameness
MRI gives a clear picture to see what was missing and preventing the horse from regaining complete soundness.
Hallmarq's Standing Equine MRI (sMRI) system brings the same diagnostic capability to equine clinical practice as human MRI with the patient at the forefront of every design
Quick, Safe & Convenient MRI
Advantages of sMRI
MRI Without Anesthesia
Standing MRI allows the procedure to be more convenient and cost effective, while at the same time reducing the risk of potential complications of general anesthesia such as colic and poor recovery.
Scan Multiple Regions
Standing MRI can be performed on multiple regions of the distal limb including the tarsus, carpus, metacarpus/metatarsus, flexor sheath, annular ligament, MCP joint, pastern joint, flexor tendons, distal sesamoidean ligaments, collateral ligaments, coffin bone, DIP, impar ligament, navicular bone and more.
True Diagnostic Quality
The diagnostic quality of standing (low-field) images has improved dramatically over the last 10 years. Standing equine MRI is now diagnostic in 90% of cases.
Radiologist Expertise
Radiologists are involved in the reading and reporting process whether remote or on-site. Radiologists have extensive experience with all types of MRI, both low- and high-field and are able to educate clinicians in development of scanning protocols to assure each anatomic region is appropriately imaged so nothing gets overlooked.
Convenience & Accessibility
With standing MRI, MRI no longer has to be reserved for advanced cases. Acute injuries where the lameness is localized to one region can benefit from an initial MRI to accurately guide therapy, saving costs on empirical treatments that may not be as successful as targeted treatments.
Offer the Gold Standard
The hassle of sending the horse hours away often prevents MRI from being a viable option. Investing in an MRI means investing in your client and patient base. Having MRI in-house allows you to not only offer your patients accurate diagnosis, but also positions you as a referral center.
Detailed Imaging
Clinical case gallery
Specifically designed to image the limbs of standing horses, our innovative and award- winning equine MRI scanner captures superb images for a more accurate diagnosis.
Excellent diagnostic images of the hoof, all the way up to the carpus/tarsus regions.
Patented design includes a unique open, thin poled magnet, bespoke equine optimized patient handling and equine specific RF coils.
Award-winning motion correction software, to ensure accurate diagnosis of the standing horse under only mild sedation.
Veterinary specific software including an array of MRI scan options with equine optimized imaging protocols for efficiency and ease of use.
For real clinical examples from some of our installed scanners, please click to browse…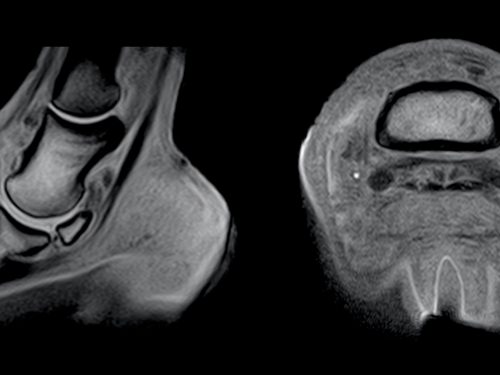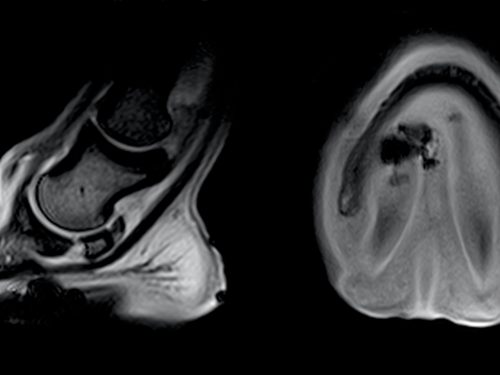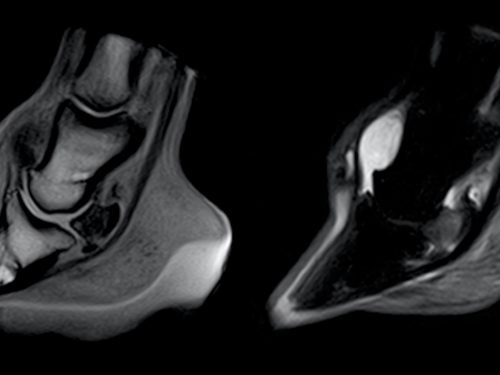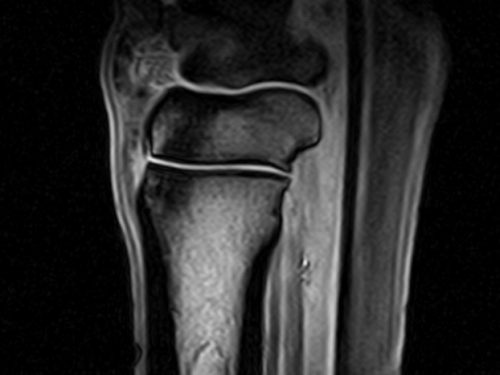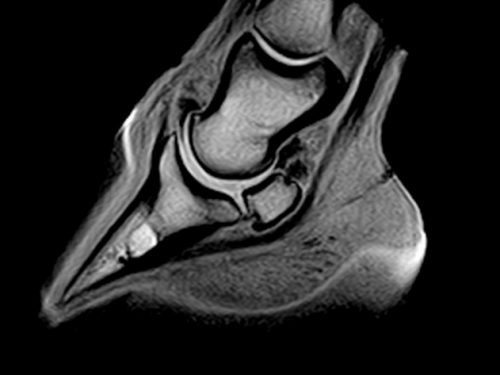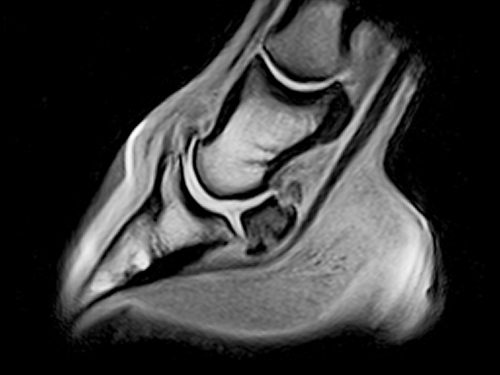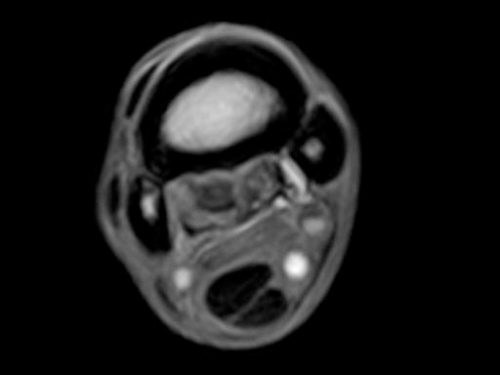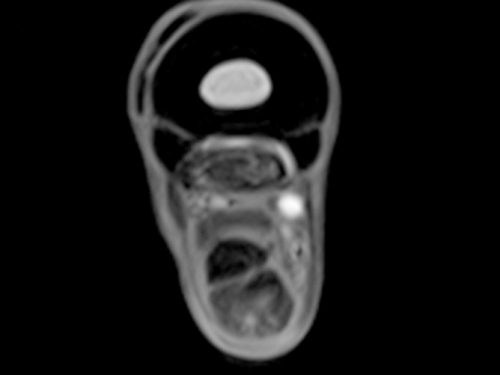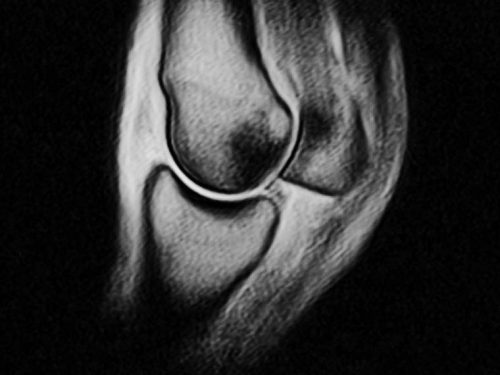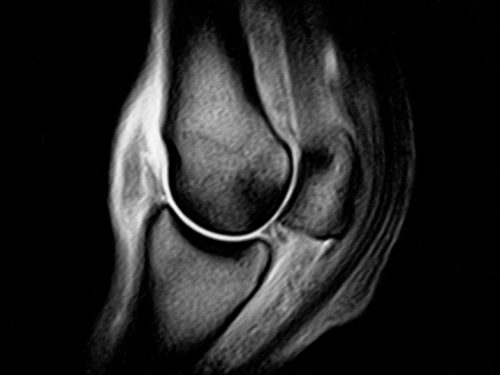 Affordable, accessible, quick and convenient MRI
The process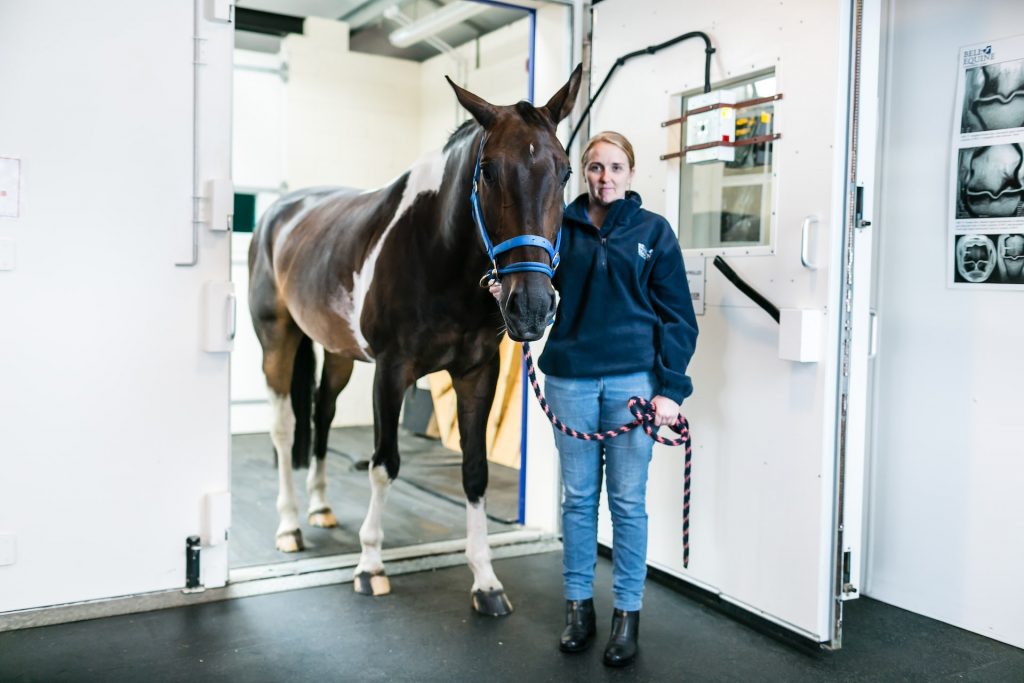 Preparation
General physical and lameness examination
Removal of shoes (for imaging feet) on affected limb and contralateral limb for comparison and to avoid artifact.
Radiographs – assure no nail clinches are left in the hoof that would create an artifact.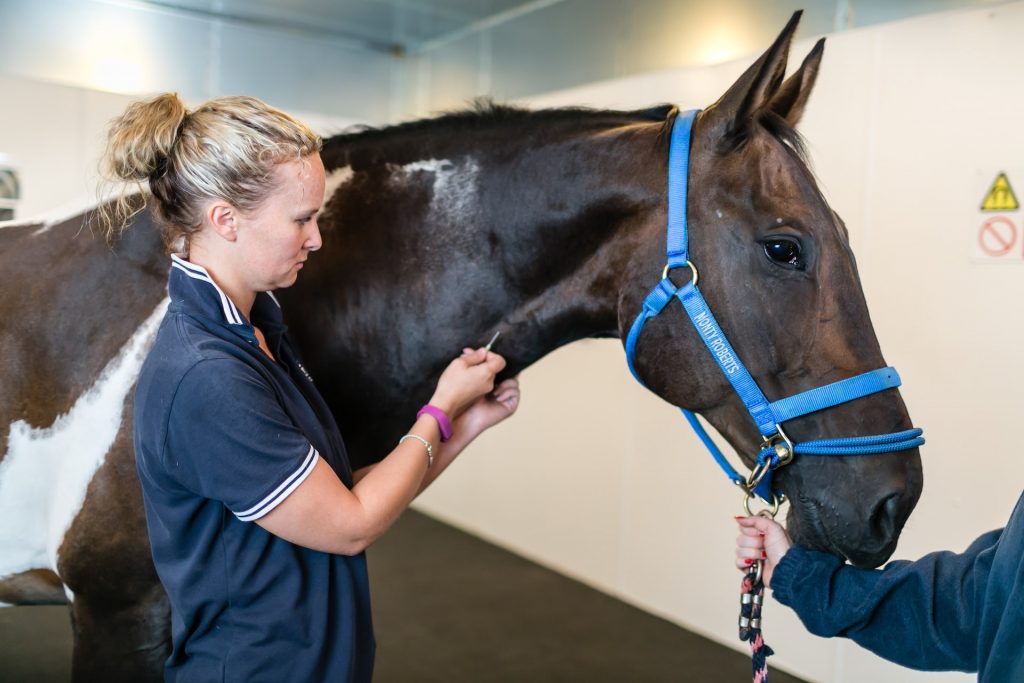 Sedation
Many protocols and procedure options to fit your clinic
Catheter or needle
CRI or "topped off" as necessary
Appropriate sedation typically achieved with alpha-2 agonists +/- opioid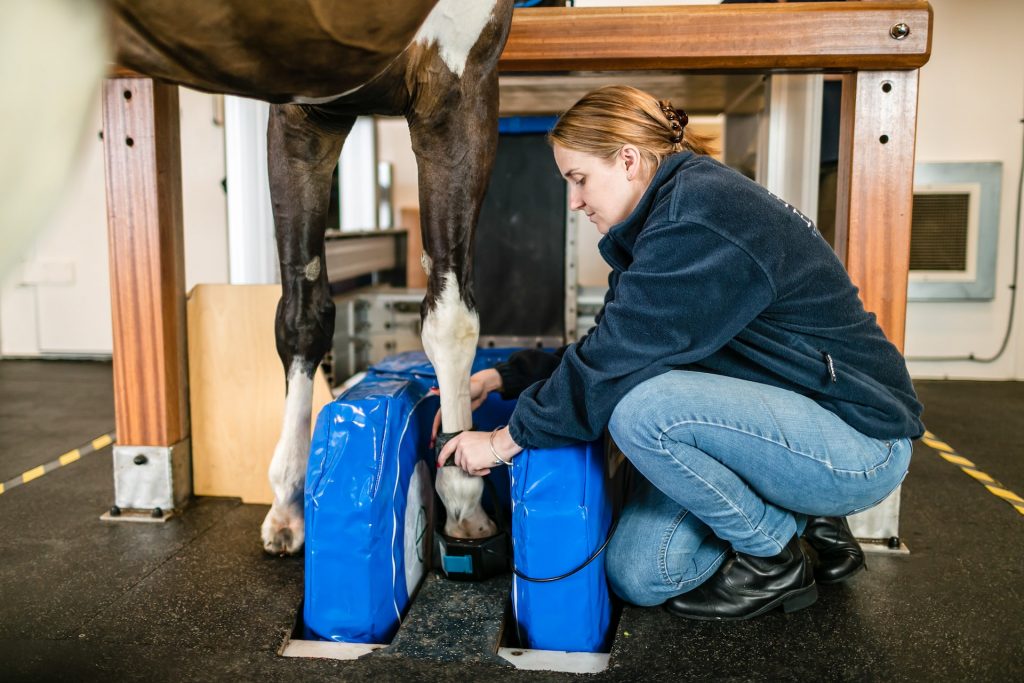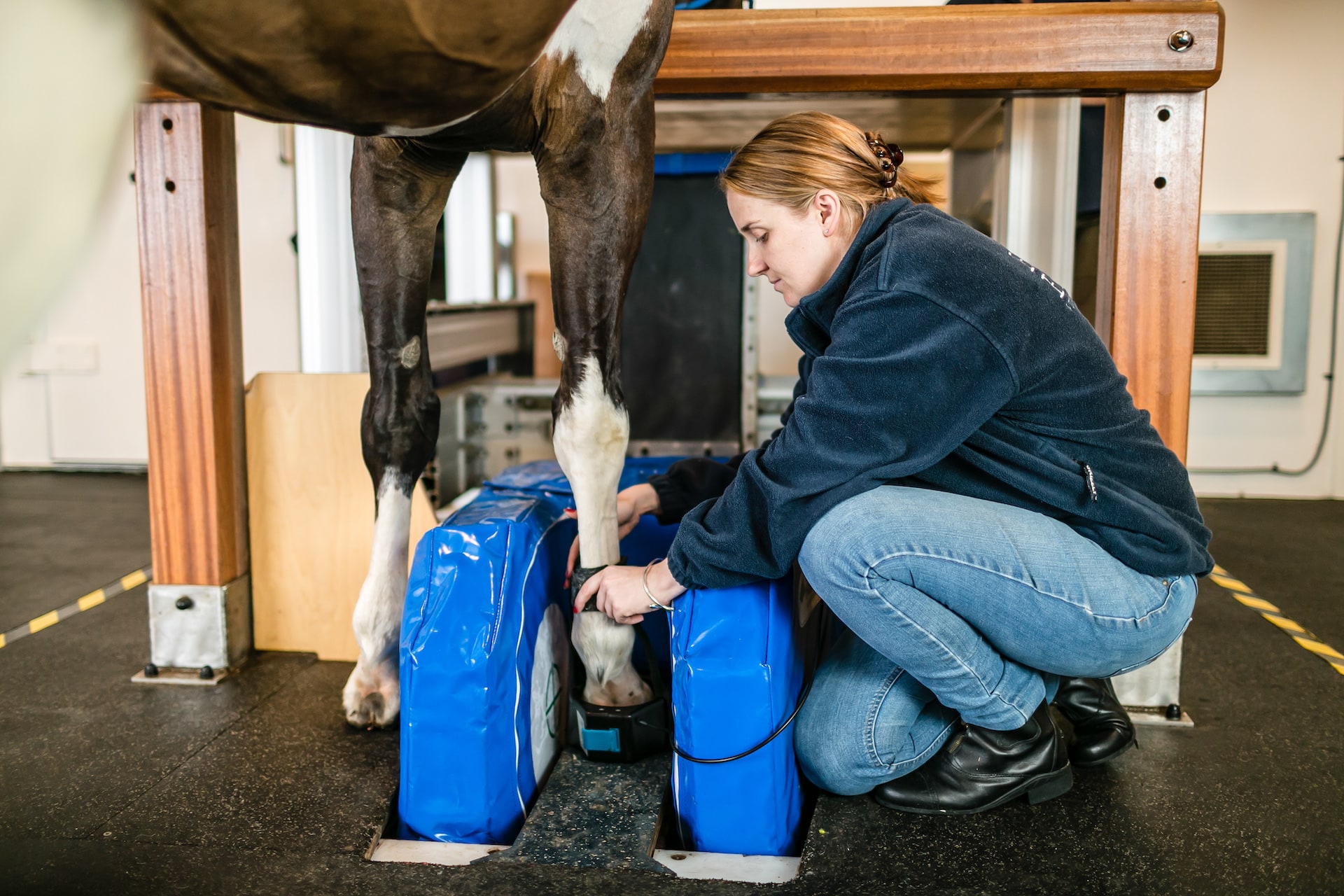 Positioning
Sedated and walked into MRI
Lame leg usually positioned for scanning first
Radiofrequency coil placed around area of interest
Coil and magnet are both adjustable (within millimeters) to assure the region of interest is exactly in the middle of the scanning area of all 3 planes (x,y and z)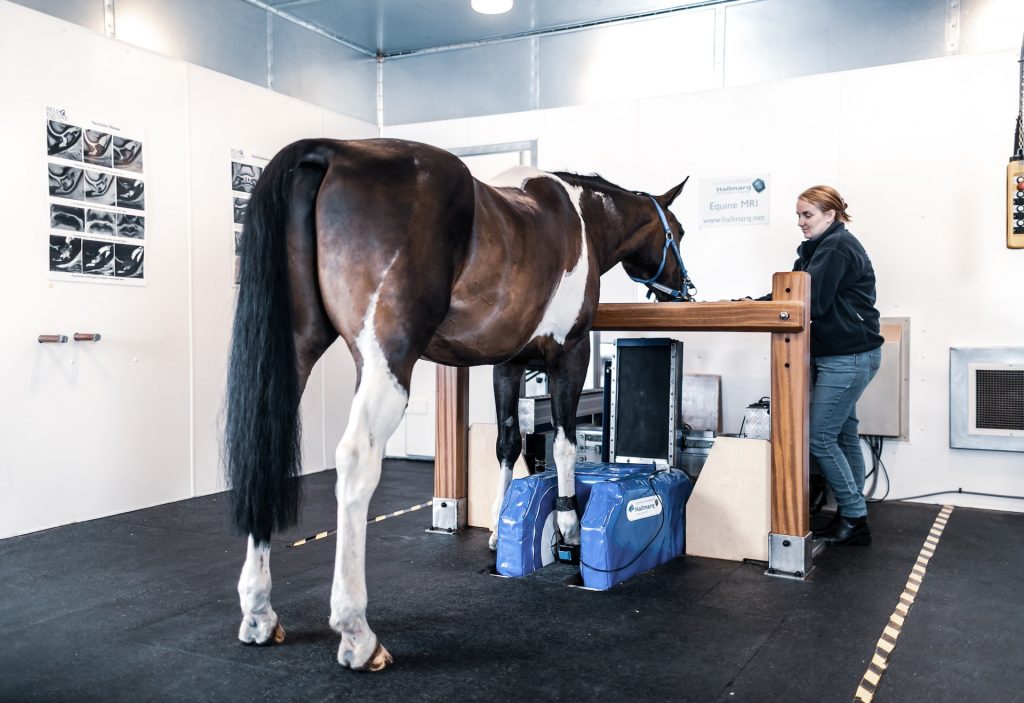 Scanning
The first leg or region is scanned
A set of pilot images are acquired to assure region of interest is located in the center of the magnet
Multiple types of scans are set up in multiple planes to acquire all information about the region of interest
Second leg or region is scanned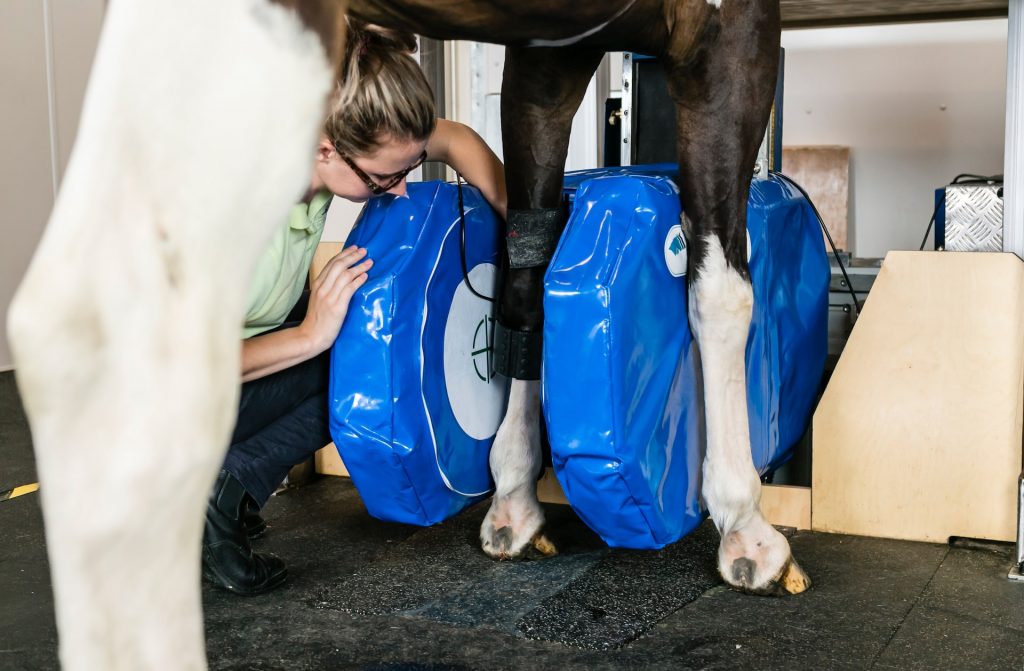 Post Scan Recovery
Standing MRI makes outpatient visits possible
The horse is placed in a stall or cross-ties to recover from sedation
Generally, the horse can safely return home the same day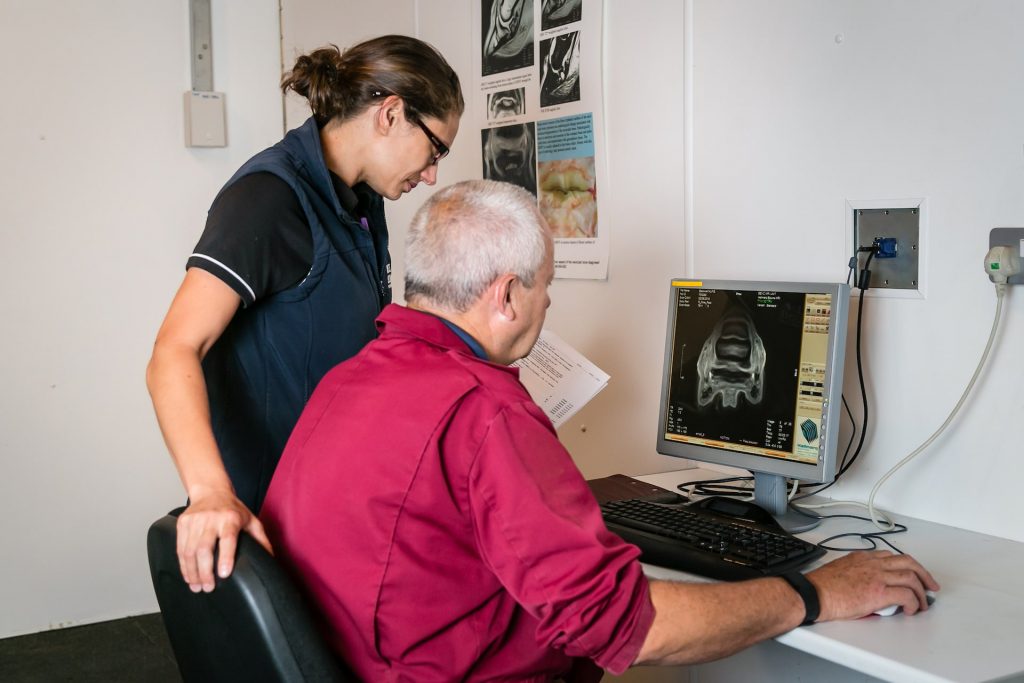 Diagnosis & Treatment
Interpretation – Radiologists are available for consultation and official report distribution (usually within 24 hours)
Consultation – Veterinarian and/or radiologist discuss the finding with the client
Treatment – With a conclusive diagnosis more targeted therapies are recommended and more accurate prognosis is given
Rehabilitation – Recommendations are provided to the client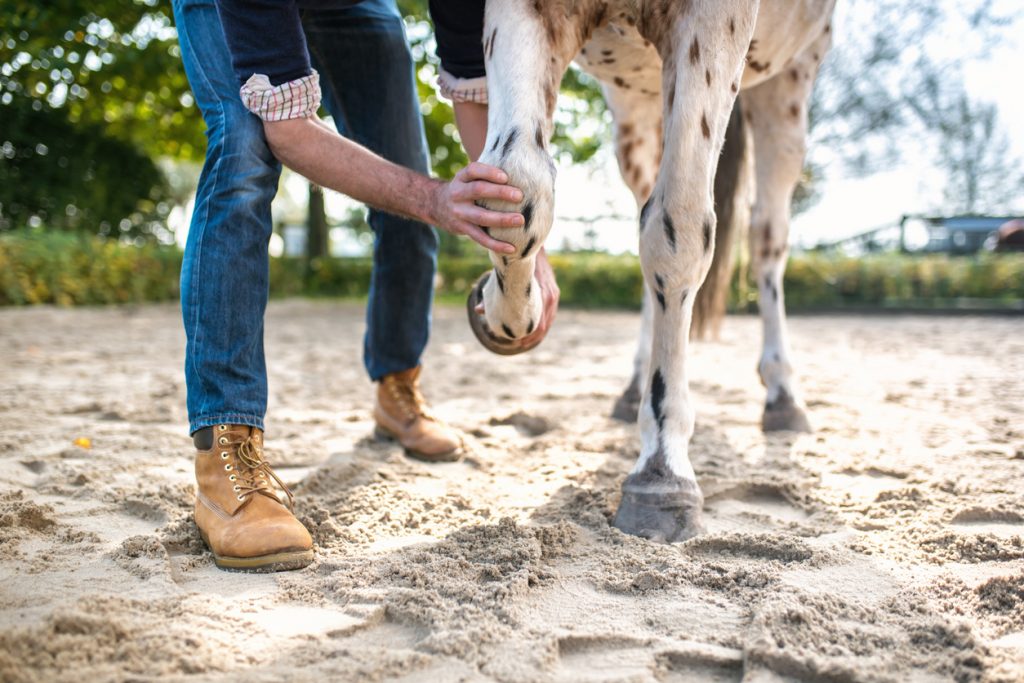 Hallmarq MRI is convenient
Definitive diagnosis, better treatment and ultimate support.
Standing equine MRI can be used for providing diagnostic-quality images of soft tissue and boney structures in the distal limb. It's not just for the foot!
The entire process is an outpatient procedure and does not require anesthesia. Offer a definitive diagnosis for a better treatment plan.
You are fully supported with the exclusive Q-Care world-class support program. With remote, onsite and online services, you are fully supported in building your MRI service.

"I must thank the whole Hallmarq team for your help and development of such a useful and effective tool"

Matteo Toniato, DVM Clinica Equina San Biagio "Standing MRI allows us to accurately diagnose the cause of lameness in the vast majority of cases where standard diagnostic techniques fail to give us the answer. It permits the selection of appropriate treatment methods, whereas without it we would often have been guessing."

Tim Mair BVSc, PhD, DEIM, DESTS, DipECEIM, MRCVS Bell Equine Veterinary Hospital "In many lameness cases, it is not possible to find a definitive diagnosis. With our Hallmarq system we are finally able to solve the puzzle! This is a big step ahead for us, our clients and most importantly, the horses."

Dr. Martin Stoeckli Pferdeklinik Dalchenhof, Switzerland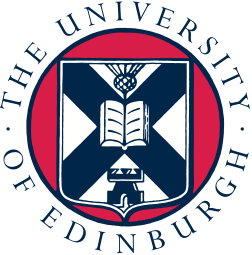 "The team at Hallmarq continue to find innovative approaches to improve motion correction and reduce slice thickness. When I use their images at International conferences, I am repeatedly asked if they were taken with a high field magnet."

Sarah Taylor BVM&S MSc PhD Cert ES(Orth) DipECVS DipECVSMR MRCVS The University of Edinburgh. The Royal (Dick) School of Veterinary Studies "We are proud to have been involved with the development of Hallmarq's standing MRI scanner since its inception. This technology has transformed our ability to diagnose many musculoskeletal disorders, particularly diseases affecting the foot."

Tim Mair BVSc, PhD, DEIM, DESTS, DipECEIM, MRCVS Bell Equine Veterinary Hospital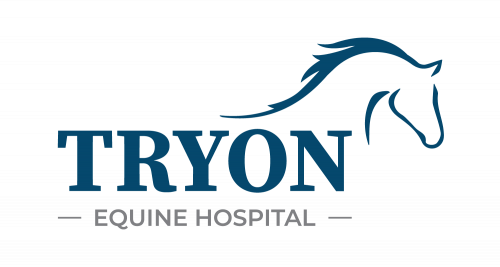 "Hallmarq has been a great partner in providing our MRI services. The training provided was well organized and sponsorship of our MRI CE program provided to referring veterinarians was a great success. Thank you Hallmarq for your continued support."

Dr. Bill Hay, DVM. DACVS Tryon Equine Hospital, Columbus, NC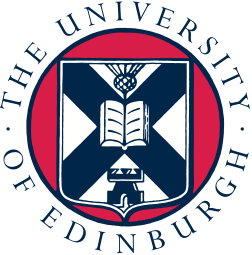 "Hallmarq's MRI has revolutionised the way foot lameness has been diagnosed in thousands of cases over the last 15 years. Excellent image quality facilitates accurate diagnoses, appropriate treatment selection and formulation of a prognosis."

Sarah Taylor BVM&S MSc PhD Cert ES(Orth) DipECVS DipECVSMR MRCVS The University of Edinburgh. The Royal (Dick) School of Veterinary Studies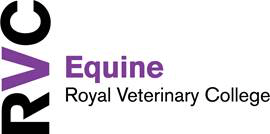 "The team at Hallmarq provide superb customer support, are friendly, approachable and always happy to help. This enables the user to make the most of the system and optimize image quality."

Dr Rhiannon Morgan BSc BVSc CertAVP MVetMed(Hons) PhD DipECVDI MRCVS Royal Veterinary College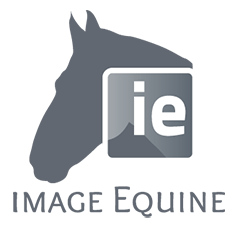 "Advanced diagnostic imaging techniques have become increasingly within reach for countless horses over the past 15 years and Hallmarq has played a large part in this rapid and exciting evolution with the equine veterinarian industry."

Merry Smith MA VetMB PhD Cert ES DipECVS AECVDI MRCVS Image Equine

"Since installing Hallmarq's Standing MRI in 2013, we have performed hundreds of examinations of the lower limbs, primarily in Thoroughbred racehorses. It is invaluable in identifying injuries that are not visible with conventional modalities."

Dr Paul Robinson BVSc DACVS-LA The Hong Kong Jockey Club "We have used Hallmarq's Standing Equine MRI for nearly 20 years. Hallmarq has consistently provided us with quality, leading-edge equipment, fantastic hands-on training for our staff, and excellent remote customer service."

Dr Maureen Kelleher DVM DACVS Virginia Tech Marion DuPont Scott Equine Medical Center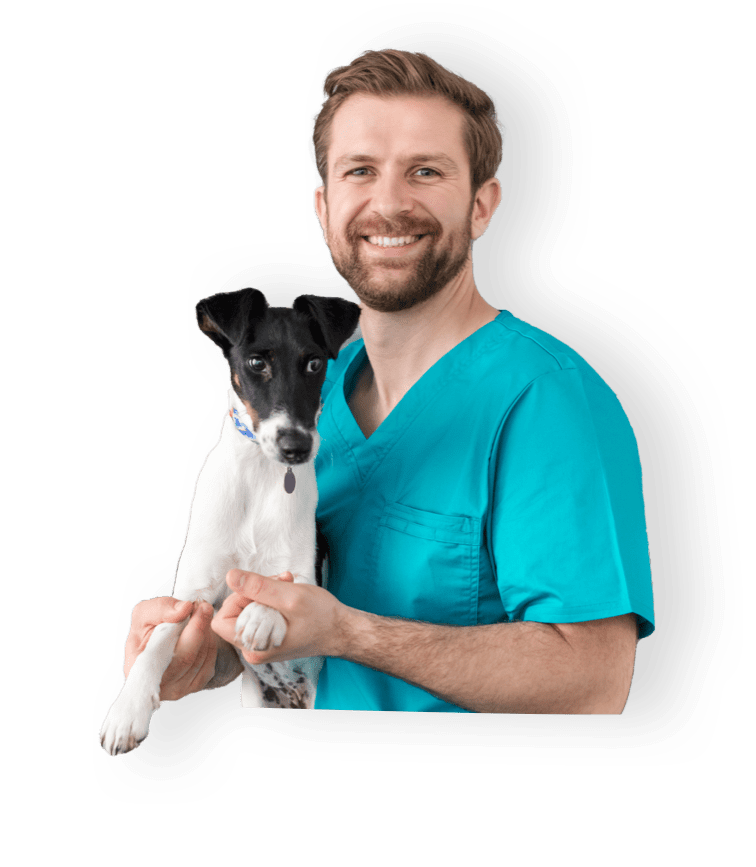 Q-Care
We are your trusted partner for advanced veterinary imaging.
Providing high quality images is just the beginning. We're here to help optimize your imaging service – from initial inquiry through installation and beyond. We guarantee support along your imaging journey, with an unrivalled program designed to add value to your practice.
FAQs
Why refer?
Much has been learned about the causes of equine lameness since the advent of MRI.  From the previously under-diagnosed, such as collateral desmitis of the distal interphalangeal joint, through the previously misunderstood, such as navicular disease, to the previously unknown, such as bone marrow edema, MRI has revolutionized our ability to provide a diagnosis and improve prognosis in equine lameness.
MRI is unparalleled in providing images of both soft and bony tissues.  Distinguishing water from fat, it highlights areas of pathology such as inflammation and bruising, in a way that radiography, CT, ultrasound or nuclear scintigraphy just can't do.  By imaging the region of interest in slices orientated in any 3D plane, a lesion can be visualized without superimposition of adjacent structures.  Multiple views allow you to appreciate the full extent of the injury.
Details
Technical Specifications
In planning for the installation of your Hallmarq Standing Equine MRI system, the high-level technical specifications below should be taken into consideration. Please consult the Site Planning Guide for additional details.
Hardware & Software
| Magnet | |
| --- | --- |
| Magnet field strength | 0.27 Tesla |
| Gap | 20cm |
| Imaging volume | 14cm DSV |
| Position | 3-dimensional magnet positioning system |
| Rotation | 90-degree magnet rotation |
| Movement | 70cm vertical movement |
| Controls | Manual |
| | |
| --- | --- |
| RF Coils | 3 x coils in varying sizes for foot and lower limb |
| Electronics | |
| --- | --- |
| Spectrometer | Pentium computer |
| | Digital RF unit |
| | RF and gradient amplifiers |
| | 17" monitor |
| | Interconnecting cabling set and connections to adjacent mains power and internet |
| Software | |
| --- | --- |
| | MRI Software Suite |
| | Pulse Sequence Library |
Equine Modular Room & Power
References
References
Benefits of MRI
Denoix, J.‐M., Crevier, N., Roger, B. and Lebas, J.‐F. (1993), Magnetic resonance imaging of the equine foot. Veterinary Radiology & Ultrasound, 34: 405-411. doi:10.1111/j.1740-8261.1993.tb02029.x
Mair, T. S., Kinns, J., Jones, R. D., & Bolas, N. M. (2005). Magnetic resonance imaging of the distal limb of the standing horse. Equine Veterinary Education, 17(2), 74-78. doi: 10.1111/j.2042-3292.2005.tb00340.x
Murray R, Mair T. (2005) Use of magnetic resonance imaging in lameness diagnosis in the horse. In Practice, 27(3), 138-146. doi: 10.1136/inpract.27.3.138
Dyson, S.J., Murray, R. And Schramme, M.C. (2005), Lameness associated with foot pain: results of magnetic resonance imaging in 199 horses (January 2001‐December 2003) and response to treatment. Equine Veterinary Journal, 37: 113-121. doi:10.2746/0425164054223804
Dyson, S., Murray, R., Schramme, M. And Branch, M. (2003), Magnetic resonance imaging of the equine foot: 15 horses. Equine Veterinary Journal, 35: 18-26. doi:10.2746/042516403775467531
Sampson, S.N., Schneider, R.K., Gavin, P.R., Ho, C.P., Tucker, R.L. And Charles, E.M. (2009), Magnetic resonance imaging findings in horses with recent onset navicular syndrome but without radiographic abnormalities. Veterinary Radiology & Ultrasound, 50: 339-346. doi:10.1111/j.1740-8261.2009.01547.x
Murray, R. C., Dyson, S., Branch, M., & Schramme, M. (2007). Validation of magnetic resonance imaging use in equine limbs. Clinical Techniques in Equine Practice, 6(1), 26-36. Doi: 10.1053/j.ctep.2006.11.003
Labens, R,  Schramme, MC,  Murray, RC,  Bolas, N.  Standing low‐field MRI of the equine proximal metacarpal/metatarsal region is considered useful for diagnosing primary bone pathology and makes a positive contribution to case management: A prospective survey study. Vet Radiol Ultrasound.  2020; 61: 197– 205. doi.org/10.1111/vru.12824
Swagemakers, J. H., Vente, C., & Mageed, M. (2016). Equine foot MRI: past, present and future. Journal of Veterinary Research and Animal Husbandry, 1(1), 104-5.
Updates
Case Studies & Blog