History
A 4-year-old BWP gelding presented with an acute onset of severe left forelimb lameness.
Clinical examination
Examination revealed a 4/5 (AAEP lameness grade) left forelimb lameness. Given the severity of lameness, the veterinarian elected not to perform diagnostic analgesia.
Radiographic findings
Radiographs illustrated a focal, well margined, round, osteolytic lesion on the medial border of the third phalanx. Differential diagnoses included keratoma and subsolar abscess and further investigation via MRI was performed.
MRI findings
A focal, rounded area of increased mixed signal was present on T1 and T2-weighted sequences in the external two thirds of the medial aspect of the distal phalanx (figures 1, 3 & 4) consistent with the radiographic findings. The MRI findings indicated a proteinaceous substance present resulting in the lesion. Proximal to the well margined area of increased signal, the medial third of the distal phalanx had diffuse low signal likely signifying diffuse moderate sclerosis. The laminae covering the bony lesion appeared normal, on the basis of these findings diagnosis of a keratoma was dismissed. A second defect present at the dorsal tip of P3 was most likely physiologically normal, consistent with the crena marginalis.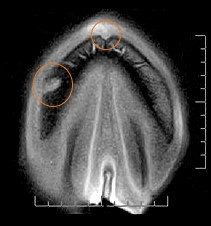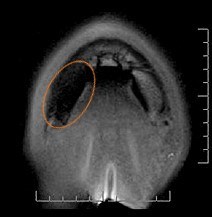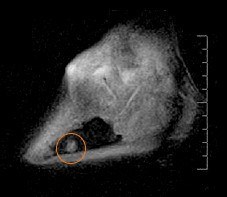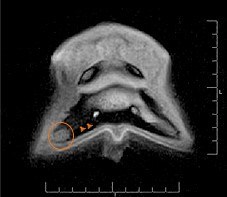 Diagnosis and Treatment
The lesion was curetted via surgical access through the sole with resolution, immediately post-surgery, of the lameness to grade 1/5 (AAEP lameness grading). The material curetted from the lesion was pus and necrotic debris, consistent with a sub-solar abscess.
Prognosis
The horse continued to improve after surgery, with the surgical site managed until completely healed. The horse successfully returned to work 3 months after surgery.