We all know that keeping, caring for, and competing horses is expensive. So, how best can we manage finances at a time when living costs seem to be spiraling out of control? And how to distinguish between actions that add value and those which are false economy?
With the current cost-of-living crisis, more and more horse owners are carefully considering their spend. That got us thinking about insurance, the cost of keeping horses, false economy, and accurate and speedy diagnostics.
Is Equine Insurance Worth it?
To insure or not to insure is a widely debated question among horse owners. And while monthly insurance fees can seem a stretch, if you are not insured against veterinary fees you must be confident that you could pay any unexpected bills.
It's important to be aware that not all insurance policies are created equal! Take your time when comparing companies and policies; be confident you are getting the level of cover you need. It's true that a cheaper policy may save on monthly outgoings. However, if your horse required extensive diagnostics, medicine, or surgery, you may find your policy doesn't cover this and you are left to foot the bill. Similarly, if your cover excludes access to certain diagnostic modalities, such as MRI or CT, an early and accurate diagnosis may be missed. Sadly, this type of oversight can result in lengthier and more costly issues.
Let's Talk Equine Veterinary Bills
Considered planning for preventable issues should be implemented in your regime. Staying on top of routine health care is paramount; we all know that prevention is better than cure. However, having the fundamentals in place should save costs associated with preventable diseases later on.
Many veterinary practices offer cost-effective ways of ensuring routine work is affordable, such as zone visits. Additionally, you could also consider sharing call-out fees with neighboring yards. Routine visits include vaccinations, dental checks, health assessments, worming advice, and a chance to discuss feeding routines or other concerns with your veterinarian. Take this opportunity to check that you're using the most effective and economical regimes for your horse.
Remember, short-term savings, such as missing your annual veterinary visit, can affect the quality of your horse's care and welfare. Sadly, they also have the potential to cause more problems in the long run.
The 2019 equine influenza outbreak reinforced the importance of vaccination from both a welfare and economic point of view
Skipping annual dental checks is a prime example of false economy. Not only are bad teeth painful for horses, but poor dental health also leads to poor performance and weight loss
Incorrect worming can have catastrophic implications for equine health, particularly in youngstock
Identifying and managing problems early improves prognosis and welfare, and reduces costs
Similarly, keeping up with regular farriery and foot care is vital and reduces the risk of lameness
What About Non-Routine Equine Veterinary Care?
If you have any concerns with your horse, seeking veterinary advice is always advisable, particularly for musculoskeletal concerns. It is not uncommon for a veterinarian to examine a horse only to find out it has already been seen by a physio, chiropractor, or other paraprofessional without a diagnosis and at great expense to the owner. Undoubtedly paraprofessionals can play a helpful role in managing horse health and rehabilitation. However, the quickest and most economical way of solving a problem is to include seeking veterinary advice from the offset.
Advanced Imaging; the Economical Choice
Similar principles apply in diagnostics. Until recently services such as CT were not widely available. Consequently, horses would undergo extensive workups, repeated examinations, and radiographic or ultrasound imaging without finding the root cause of lameness. Standing limb CT offers the option for safe, effective, and affordable advanced imaging, helping veterinarians identify the cause of lameness quickly and getting horses onto an appropriate treatment plan. While radiography and ultrasound are still valuable tools, many cases benefit greatly from advanced imaging.
It is predicted that CT may supersede radiography as the 'go-to' diagnostic tool for lameness. Despite the initial cost, these modalities offer so much more in terms of diagnostic quality. In the long run, they can prove more economical both in time and money.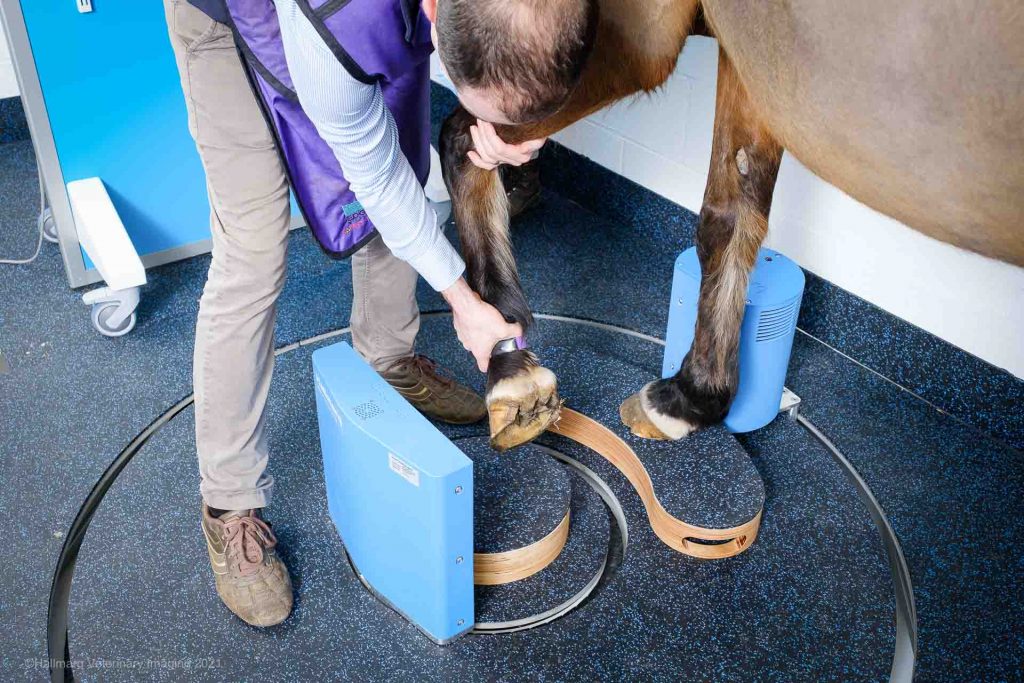 Get Organized and Save on Equine Veterinary Bills
Being organized in your training and competing can also help with expenditure. Many riders shy away from planning a competitive season for fear of cursing themselves! However, having clear goals of what you would like to achieve with your horse this summer enables you to work out the exact training and preparation you need to succeed. This exercise is extremely enlightening when thinking about the workload horses genuinely require. Some riders may be under-preparing their horses, others may be overworking them. Both incur inherent risks as ill preparation can increase the risk of injury or poor performance, which can be costly financially, emotionally, and in time.
INTERESTED IN VISIONARY VETERINARY IMAGING?
Vision CT