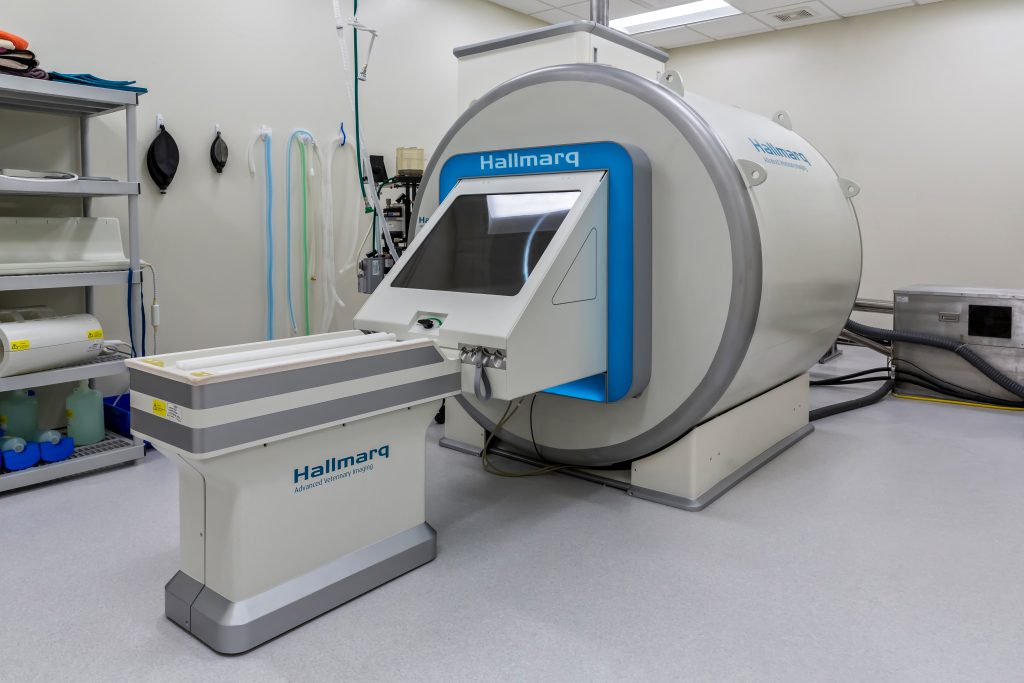 MRI Technology Engineered with Small Animal in Mind
Building on the success and feedback from first generation customers, Hallmarq Veterinary Imaging now offers the second generation of their high-field Small Animal MRI imaging systems engineered exclusively for animals and designed for today's contemporary veterinarian practice.

"The Hallmarq MRI is designed from the ground up around the specific needs of the small animal anatomy, the workflow of the busy practice and with a practical payment model that puts MRI in reach for more practices. Our aim is to support increased access to this technology for more animals and the people who care for them. " Lynn Bender, Chief Marketing Officer.

"We've received very positive feedback from our sites around the world and have continued to improve upon the core design principals to offer our next generation system. Some of the enhancements include
a 16-channel system with focus on open-top veterinary-specific coils, V-shaped patient bed, and the software and sequences which make the Hallmarq systems the industry's only high field MRI specifically for small
animals," said Dan Brown, DVM, Chief Customer Officer at Hallmarq Veterinary Imaging, Inc.

Brown noted because Hallmarq keeps the animal patient in mind, the Hallmarq Small Animal MRI has five different coils including a 1-meter long V-shape spine coil allowing for easy imaging of large breed dogs. This coil fits closely to the pet's shape, providing a 20 percent better signal than a
flatbed made for humans. The Hallmarq Small Animal MRI can also run two coils simultaneously which is especially useful for imaging those difficult to reach areas, such as shoulder joints.

"By designing the system with your patients in mind, and with software which does not require the clinic to employ a dedicated MRI technologist, our customers get great results," he said. MRI use for pets remains uncommon compared to human applications —most pet owners may have to travel long distances to ensure their pet receives the proper diagnostic imaging.

One practice in Chattanooga, Tenn., Veterinary Care and Specialty Group, is among a several clinics in the country to recently install a Hallmarq Small Animal MRI.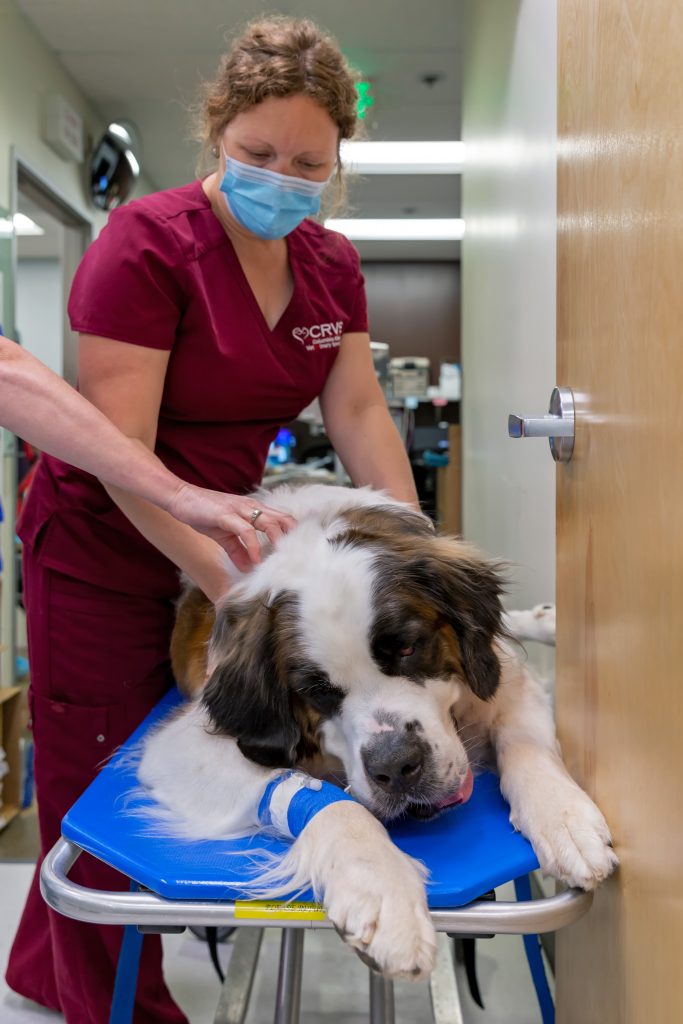 According to Christiane Massicotte DVM, MS, PhD, DACVIM of VCSG, many pet owners are surprised this technology exists for pets and many are unaware there are veterinarian neurologists to treat seizure disorders and spinal herniations.

"The technology has progressed so quickly and now we are able to diagnose these exceedingly difficult diseases and neurological disorders. We used to lose 95% of meningitis cases but now it's an exception
when we lose one of them," Massicotte said.

Hallmarq also boasts of a 99% up time, which can save a veterinarian practice at least $50,000 per year over a used, human magnet system.

"One big selling point of the Hallmarq Small Animal MRI unit is its reputation for staying running," said Billy Pullen, DVM, DVIM and owner of VCSG . "When you have down time, you have tremendous
backlogs and lost income. Patients often come to us in an emergency and if our MRI is down, we might have to turn them away and refer them elsewhere and it may be several days before the unit is fixed."
Pullen said his clinic sees a wide variety of patients and those pets have a huge size range, from Chihuahuas to Great Danes, and the Hallmarq imaging modalities help maintain that quality of image on that diverse array of animal sizes.

"We need to have the ability to image all of those patients with a high-quality image and Hallmarq's ability to use the different coils and positioning is unparalleled," he said.

The Hallmarq Small Animal MRI has the following features:
Image quality is at the forefront with veterinary-specific coils and sequences, along with the unique ability to use two coils simultaneously, to provide a significant boost in signal intensity across larger body regions, allowing for fast scan times and excellent images of those difficult to reach areas like the brachial plexus.
Increased patient safety is provided with the built -in RF shield which allows free access to the MRI room in addition to video monitoring for patient accessibility.
Capped monthly payments help standardize and stabilize your overall cost of ownership and reduce the operational risks of implementing an MRI service.
Lower total cost of ownership over refurbished systems with a 99% uptime guarantee that also avoids wasted time and increases customer satisfaction.
Unrivaled support is delivered as part of the exclusive Q-Care program that offers a partnership from the initial inquiry through system start up and beyond, from a team dedicated to the veterinary profession.
About Hallmarq Veterinary Imaging
Hallmarq Veterinary Imaging is an award-winning global leader in innovative diagnostic imaging solutions. As industry specialists, we focus on providing safe, accurate and affordable advanced imaging for practicing veterinarians worldwide. With a shared passion for improving animal health, we've partnered with our customers since 2000 to support imaging of over 100,000 animals in 24 countries. Our exclusive dedication to the industry and exceptional support we provide our customers has resulted in increased access to advanced clinical systems for small animal and equine practices around the globe. Hallmarq Veterinary Imaging Ltd. has offices in the U.K. and North America.