Offering veterinary MRI services for your small animal patients is a big step and can expand your practice to a larger market. Veterinary neurology is becoming more common, and clients are beginning to expect these services from their veterinarians.
That doesn't mean it's easy to roll out. Whether your concerns are practical, such as finding space for the system, or tactical, such as investing in staff training, thinking these factors through beforehand will help you to make the most of your investment.
Here's what you need to consider before adding veterinary MRI services to your practice.
Do You Have the Case Numbers to Justify Offering Veterinary MRI Services?
Based on scan revenue alone, to break even on your MRI system you need to conduct around eight studies per month. Taking downstream and surgical revenue into account drops the number of scans needed per month down to somewhere between 5-8, but possibly as low as three in order to break even.
What are some of the cases that you see on a regular basis that would warrant having an MRI study done? Traditionally, surgeons use CT because it's inexpensive and fast, but MRI studies can often provide twice the information in half the time.
Vet MRI is the best imaging tool for soft tissue cases (including brain and spinal cord), ear diseases, painful conditions you can't localise, behaviour abnormalities indicating neurological problems, seizures and weakness. Calculate how many of these cases you see each month. A first-opinion practice seeing five or more cases per month is in a good position to justify an investment in a veterinary MRI system.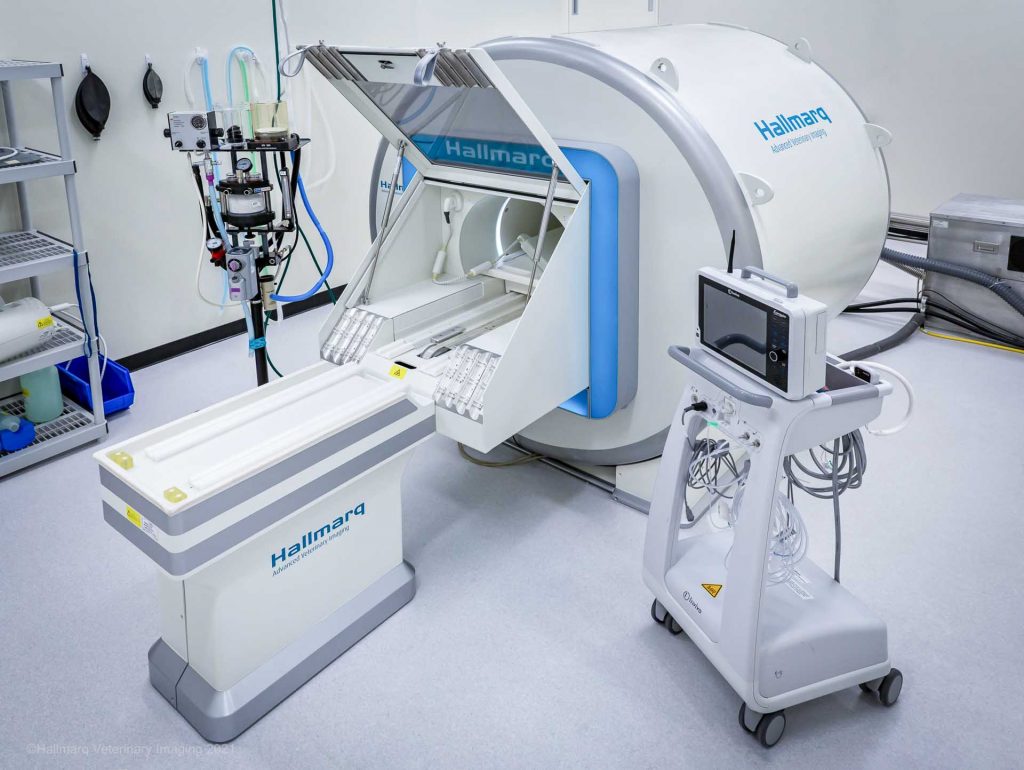 What Type of Installation Option is Right for You?
High-field MRI systems can be challenging projects based on their space requirements. An average MRI suite requires 600 to 700 square feet of dedicated space and at least 10-ft ceilings to accommodate helium refills.
Choosing a partner with flexible installation options will open greater possibilities for your practice. Each one has unique benefits and drawbacks.
There are three installation options for your MRI system.
In-hospital installations support an easier workflow, since the system is accessible from within your building and convenient to other services. However, you must have the appropriate space. Trying to fit an MRI system into an existing space can prove complicated.
Modular buildings offer the feel of a permanent building, can be installed in under a week, and moved just as quickly. A modular can also be designed to match the aesthetics of your existing building which can help minimise challenges with planning. Moreover, they are cost effective to heat and cool based on their impressive thermodynamic qualities. However, the further your MRI system is from other clinical operations and services, the less integrated MRI services will be with the rest of your workflow.
Trailer installations provide the ultimate flexibility and speed to revenue since they allow your MRI system to be up and running very quickly. You may, however, face problems with planning permissions and, like the modular building, housing your MRI system in a trailer can impact your workflow.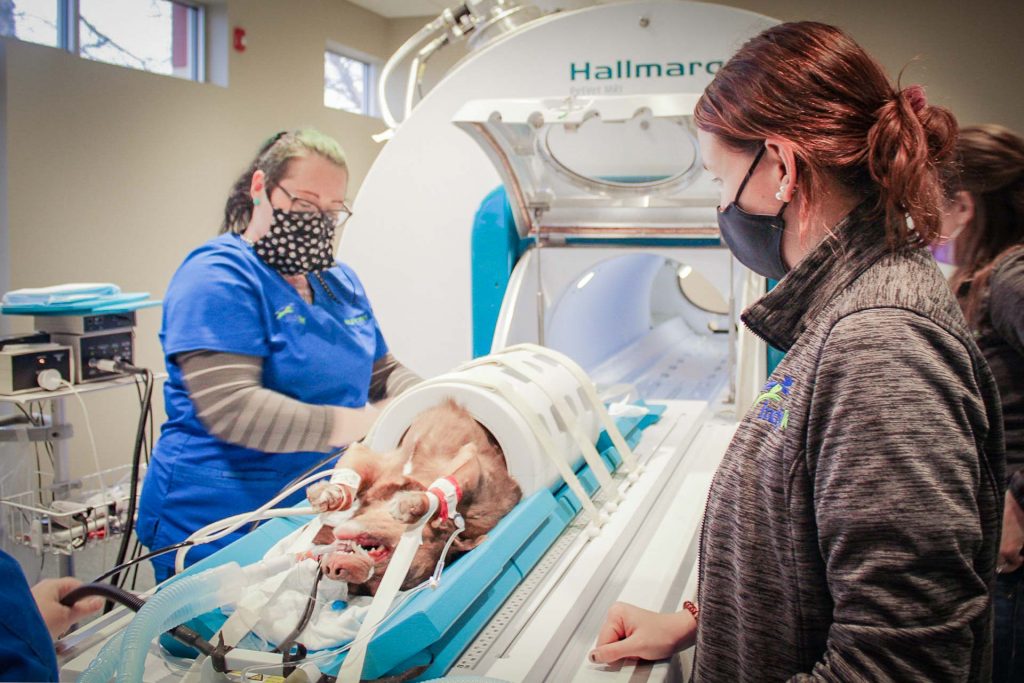 Who Will Operate Your High-Field MRI?
There are several options to consider when staffing operators for your MRI, each with pros and cons.
Trained veterinary technicians: The software for your high-field MRI should be simple enough to allow veterinary technicians to operate the system. It should have built-in "guard rails" that empower vet techs while providing latitude for clinicians to practice medicine the way they see fit. Since veterinary MRIs are not typically pushed as hard as in human settings, utilising veterinary technicians as operators allows them to work in other areas of the practice when not operating the MRI. Veterinary technicians are also more cost-effective compared to MRI Technologists. Proper technician training can help you get the most out of your MRI investment without putting the strain on the clinician. Look for vendor partners who offer training as part of their package.
Hire an MRI Technologist: MRI Technologists are another option to consider. MRI Technologists receive formal education and certifications on how to operate an MRI. They usually have a strong understanding of MRI physics along with advanced sequences and protocols. Employing an experienced MRI Technologist can free up the clinician to focus on medicine. There are two challenges to employing an MRI Technologist. They command a higher salary compared to veterinary technicians and when they aren't operating the MRI, they can't necessarily help out with patients in other capacities.
Invest in remote operation: Remote operation services utilise licensed MRI Technologists to operate the MRI system remotely using remote access software. This frees up veterinary technicians to focus on patient care and monitoring while maximising the skills of an MRI Technologist, without the burden of hiring a full-time equivalent. Drawbacks include the potential for latency when using remote access software and the potential for scheduling conflicts.
Adding veterinary MRI services at your practice is a big decision, but comprehensive consideration of your existing infrastructure, staffing goals and abilities, as well as caseload will help you make the right choice.
Learn more about small animal MRI by following the link below.