HRH The Princess Royal visited Hallmarq's Head Office in Guildford earlier this month to recognise our 2021 Queen's Award for Innovation, highlighting the value of veterinary innovation to the wider community. As a world leader in providing advanced imaging systems for the veterinary market, this prestigious award recognises the unique and innovative nature of Hallmarq's 1.5 Tesla MRI scanner, which was designed from the ground up for the small animal veterinary practices. Princess Anne toured the factory and offices, meeting staff from all departments and Hallmarq's guest, Dr. Kate Richards, President of the Royal College of Veterinary Surgeons.
Royal Recognition
CEO Mick Crosthwaite says, "It was an honour for our team to welcome HRH The Princess Royal. Hallmarq has been at the forefront of developing innovative diagnostic systems for veterinary practices over the last 20 years. With innovation at the heart of everything we do, this award is well deserved recognition for the team's passion and hard work in pursuit of our goal of improving the lives of animals and the people that care for them."
High-Tech Advancements
Hallmarq's small animal MRI is the only 1.5T high-field scanner designed specifically for veterinary use, helping to address the challenges of imaging small animals of all breeds and sizes. The unique design incorporates an innovative V-shaped bed and 1-meter-long V-shaped spine coil to ensure correct patient positioning and spinal alignment. This also boosts image quality compared with flat spine coils used in human machines and enables detection of more subtle changes to soft tissue structures. Another high-tech advancement includes the integration of a radio-frequency shield which reduces project cost and complexity. Other key design elements include veterinary-specific imaging software, flexible, open-top head coils for different patient sizes, and a comprehensive lifecycle customer support package called 'Q-Care.'
Accessible Advanced Imaging
Expanding on the impact of this innovation, Chief Technology Officer, Dr. Steve Roberts explains, "Our system requires no external radio-frequency shielding, reducing one of the key barriers to veterinary practices. This makes advanced imaging more accessible to an increasing number of first opinion veterinary, emergency practices and referral centres, especially when combined with our innovative approach to customer support. These innovations have significant benefits for animal health and welfare, as improved diagnostic capability leads to more targeted treatments and better patient outcomes."
Global Reach
During her tour, HRH The Princess Royal was able to see a working Small Animal MRI system via live video link, and meet Hallmarq customer, Dr. Cody Alcott, DACVIM, who is a neurologist and owner of Tucson Veterinary Specialists in Arizona, USA. Dr. Alcott has seen many benefits of the system to both his practice and patients and demonstrated the machine's ease of use.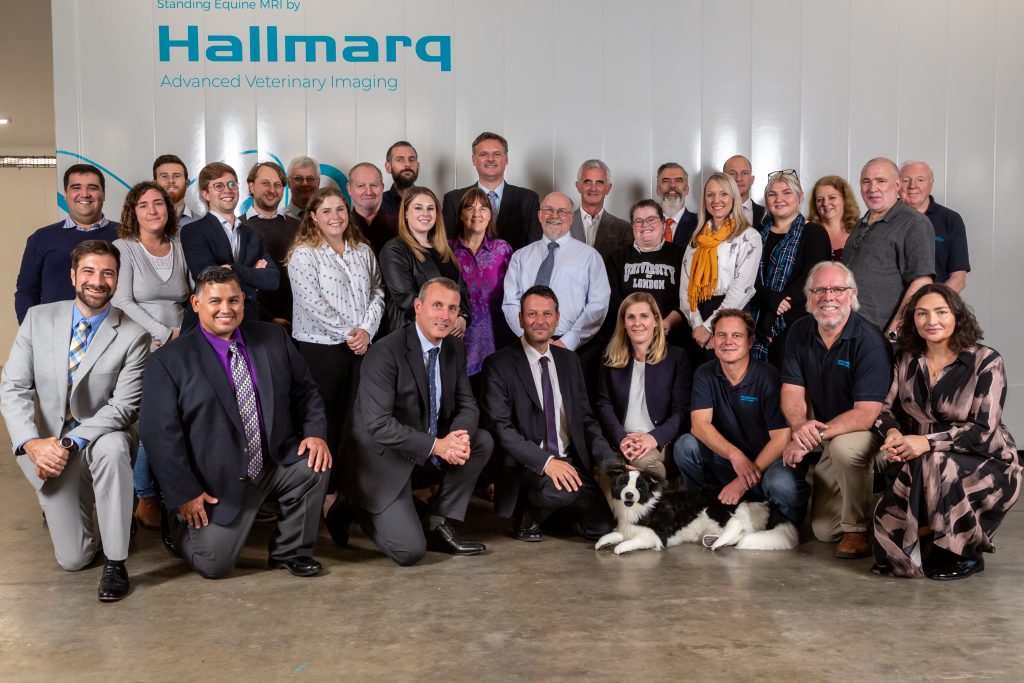 A Hallmarq Hattrick
HRH The Princess Royal was introduced to Hallmarq's Founding Director, Dr. Nick Bolas, who revealed the new standing equine leg CT system from Hallmarq, celebrating a shared interest in horses and showcasing some of the advances in imaging technology since her previous visit to Hallmarq six years ago when the company was presented with two Queen's Award for Innovation in both Innovation and International Trade which makes this a hattrick for Hallmarq!