Hallmarq has won another Queen's Award for Enterprise, this time in the Innovation category for its 1.5T high-field MRI scanner, developed specifically for the small animal veterinary market.
Combining unique, customer-led technical design with an innovative business model makes this technology accessible to a wider market, providing a feasible option for veterinary practices seeking to offer more advanced diagnostics to benefit pets.
Previously, Hallmarq's unique Standing Equine MRI system was recognised with two Queen's Awards in 2015, one for Innovation and one for International Trade, and they are proud to be recognised again in what is seen as the most prestigious UK business awards.
Accessible Advanced Imaging
From over 200 total winners in 2021, Hallmarq is one of only 48 companies to win an award in Innovation which acknowledges strong efforts in technology and service. The decision to confer the award is made according to a wide range of metrics including invention, after-sales support, and proven commercial success for a minimum of two years. For Hallmarq, these qualities are evidenced in its drive to improve accessibility to advanced veterinary technology, which is at the core of the company ethos.
This focus ultimately benefits pet health and welfare by increasing in-house diagnostics to help achieve more targeted treatments and improved outcomes. High-field technology is widely used in referral centres and an increasing number of first opinion practices, reducing the need to travel long distances and creating an extension of services offered by first opinion vets.
Delivering Unique Solutions
Hallmarq's small animal MRI is the only 1.5T high-field scanner in the market that has been designed specifically for veterinary use, with other options being older, adapted human systems. Steve Roberts, PhD, Hallmarq's Chief Technical Officer, expands on the decision-making behind the design;
"Imaging pets across a range of sizes and breeds presents unique problems, and we have collaborated with our customers to identify these to deliver unique solutions through our technology. We know that image quality is important to vets, but so is reliability and ease of use."

Steve Roberts, CTO, Hallmarq Veterinary Imaging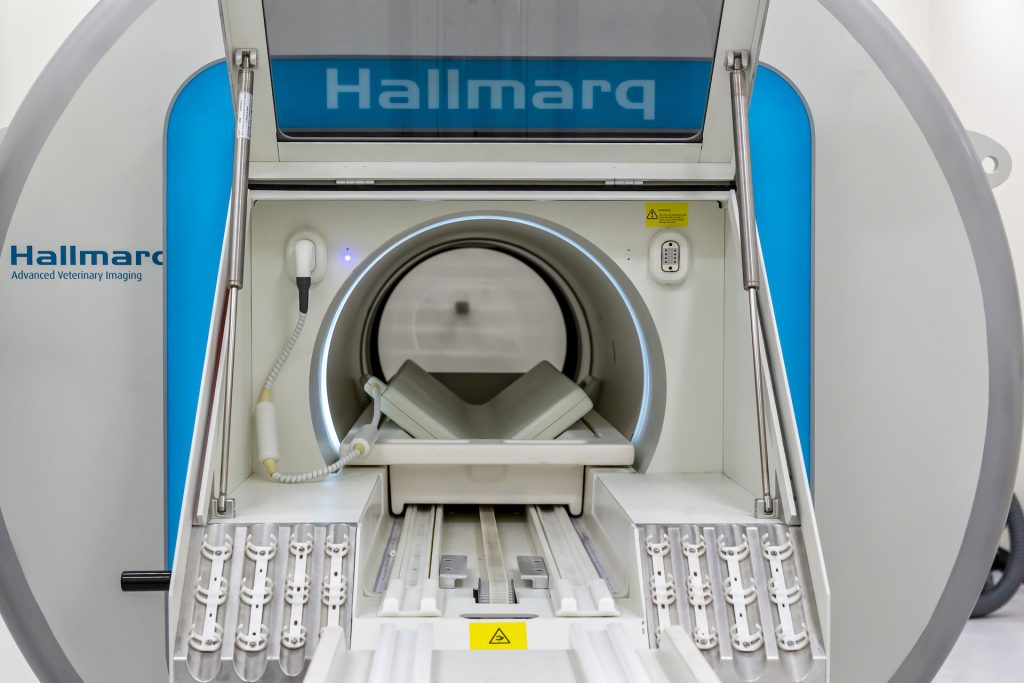 The design includes a unique V-shaped bed and spine coil to aid spinal alignment and patient positioning. This innovation has the added benefit of improving image quality compared with a flat surface, typical in human machines. The scanner also has an in-built radiofrequency shield, removing the need to incorporate these features into the design of the room itself. This increases the options available to practices for housing one of the MRI scanners, thereby reducing one of the key barriers to some practices. Other key features include the specially designed imaging software, flexible, open-top coil design for different patient sizes, and a comprehensive lifecycle customer support package, 'Q-Care.'
The Innovation awards encompass both the product and the service that surrounds it and in Q-Care, Hallmarq delivers a unique level of support unheard of in the industry. From initial enquiry through installation and beyond, their truly collaborative partnerships work to support the advanced imaging journey for every customer. We interviewed Steve Roberts to find out what it means to win this prestigious award again, find the interview here on our YouTube channel.
Team Effort
Steve adds, "Winning this award is a really big moment for our team and the culmination of many years of complicated development. The validation of our concepts and designs brings us even greater visibility within the global veterinary industry and offers more opportunities to talk to vets about the solutions we can offer."
Simon Platt, BVM&S, DipECVN, DipACVIM, (Neurology) FRCVS, Hallmarq's Small Animal Medical Director explains the importance of making MRI more accessible:
"MRI is considered the gold-standard diagnostic tool for a range of conditions but has previously felt out of reach for many practices. Our team aims to break down these barriers by offering cutting-edge equipment, along with financial flexibility and long-term training and support, to help vets on the front-line benefit from greater diagnostic capabilities and deliver more targeted treatments to their patients."

Simon Platt, Small Animal Medical Director, Hallmarq
Continued Investment
Hallmarq CEO Jos Belgrave, BVSc, CertEP, MRCVS, believes that innovative technology continues to be a healthy investment and is boosted by initiatives such as the Queen's Awards, stating,
"Hallmarq's third Queen's Award, along with incremental sales growth, demonstrates the commercial value of our continued investment in innovation, a strategy which has been strongly supported in recent years by August Equity. As forward-thinking market leaders, we continue to innovate and collaborate with our global customers and have already bought another new and innovative product to market recently."

Jos Belgrave, CEO Hallmarq Veterinary Imaging