Tucson Veterinary Practice Combines Leading Edge Technology with Specialty Focus
According to the American Veterinary Medical Association, almost 57% of American households include a pet. In Arizona alone, that translates to approximately 1.5 million homes with a family cat or dog.
Often, pets affected with neurological diseases are among the most challenging cases for a general vet to treat, requiring the use of the latest technology, including MRI designed specifically for small animals. For Arizona veterinary neurologist Cody Alcott, DVM, of Tucson Veterinary Specialists, specialising in treating pets referred to him by other vets makes for a busy schedule.
One of the few veterinarians choosing to specialise in animal neurology, Alcott is board-certified by the American College of Veterinary Internal Medicine in both Neurology and Large Animal Medicine. His choice of speciality requires the use of the most sophisticated technology to diagnose complex cases.
"There was a case of a golden retriever with a tumour engulfing part of the spinal cord," he said. In the past, Alcott might not have been able to diagnose the problem as CT, X-ray and ultrasound are often ineffective at imaging tumours near the spinal cord.
"I think at a lot of places, if they had a CT, the vet probably would have stopped there and not had any idea what was going on. With the Hallmarq MRI available at our practice, we were able to find out three different locations compressing the spinal cord and there happened to be a tumor right below it invading the chest. Our diagnosis made a big difference to that dog's quality of life."

Dr. Cody Alcott, DVM, Tucson Veterinary Specialists, Arizona
In another example, a Dachshund, presented to Tucson Veterinary Specialists, suddenly lost the ability to walk. The owners were desperate to find care for their dog and were out of options.
"With MRI, we were able to identify a severely ruptured disc as the cause; X-rays alone are often not enough to diagnose these cases. CT and MRI provide the necessary imaging to identify damage to the spinal cord and perform minimally invasive surgery for decompression," Alcott said.
"Radiologist Dr. Bunita Eichelberger and I provided the care necessary for this Dachshund to walk again. The owners got their pet back walking again and we couldn't be happier," he said.
Dr. Alcott focuses on the most challenging neurological cases from Arizona pet owners and offers a unique diagnostic technology that few other veterinarians have—a Hallmarq Veterinary Imaging Small Animal 1.5T MRI. However, he also commented that part of his role, alongside his dedicated practice team, includes educating pet owners. Many of them will not realise that most diagnostic imaging in veterinary practices is pre-used technology, designed for humans and from human hospitals.
"The Hallmarq MRI is designed from the ground up around the specific needs of the small animal anatomy. We have paired it with a practical financial model that puts MRI in reach for more practices. This supports our vision to increase access to this technology for more animals and the people who care for them,"

Lynn Bender, Chief Marketing Officer, Hallmarq Veterinary Imaging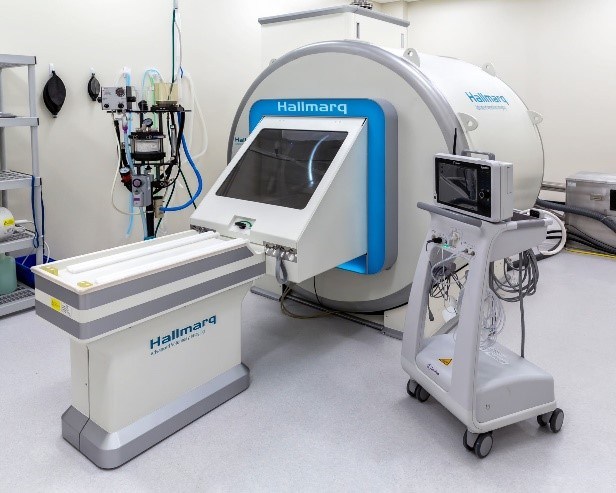 The Hallmarq Small Animal 1.5T MRI with Q-Care has the following features:
Image quality is at the forefront with small animal-specific coils and protocols, along with the unique ability to use two coils simultaneously, to provide a significant boost in signal intensity across larger body regions. The use of two coils allows for fast scan times and excellent images of those difficult-to-reach areas like the brachial plexus. A built-in radio frequency (RF) shield and video monitoring provide increased patient safety by allowing free access to the MRI room during studies.
Next-level customer support is provided through Hallmarq's Q-Care programme, which provides comprehensive customer support over the lifecycle of the product.
Dr. Alcott's blend of new technology, along with his commitment to serving pet owners and other veterinarians, rises from his own experience as a general practice veterinarian.
"I remember what it was like in a busy vet clinic," he said. "You've got no time to sit on hold, waiting to talk to a specialist. For our practice, I have created an online referral system so that a vet's contact with me is succinct and informative, and the doctor has confidence in us," he said.
About Tucson Veterinary Specialists
Tucson Veterinary Specialists (TVS) is a veterinary practice in Tucson, Arizona, exclusively dedicated to specialty veterinary care, offering state-of-the-art speciality care, advanced diagnostic and treatment capabilities, and working in concert with primary veterinarians and pet owners.