Hallmarq Appoints Specialist Equine Account Managers
Between them, Hallmarq employees Suzanne Reese and Dan Mountifield have notched up an impressive 21 years helping power the company's global equine training and support function. This month saw them both step up into new roles as Specialist Equine Account Managers, for the Americas and UK & ROW respectively, and to further enhance the great relationships they've worked to build with so many Hallmarq customers.
Although training customers on how to operate Standing Equine MRI will remain a key function, both Dan and Suzanne are now also tasked with helping sites to grow their business and, most importantly, keeping their customers as happy as they can be. Responsible for managing the company-client relationship for their designated geography, these new positions are seen as cross-functional and designed specifically to align customer and company objectives.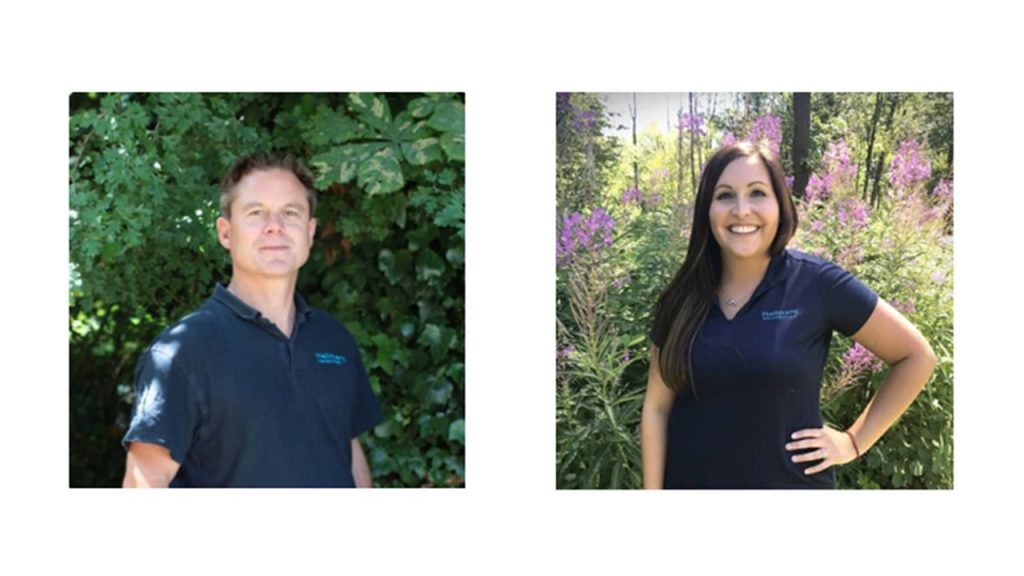 Dan joined Hallmarq in 2006 as Applications Scientist in Customer Training and Support, quickly moving into a more senior role which included extensive travel to customer sites worldwide. As a former equine technician with eight year's clinical experience – including three spent as a Standing Equine MRI operator at one of their customer sites – Suzanne was the perfect candidate to join Hallmarq in 2017. With the launch of the company's latest imaging modality last year, they also deliver training on Hallmarq's Standing Equine Leg CT.
Hallmarq's Chief Customer Officer, Annie Makin, is looking forward to working with her new team saying:
"With the drive to find lasting solutions to customer problems, there's no doubt that each of them is well qualified to take the next step in supporting customers in their success."

Annie Makin, CCO, Hallmarq Veterinary Imaging
Customer Collaboration
The key to success for Dan and Suzanne has been their ability to cultivate positive relationships with both clients and colleagues. Before COVID-19 changed how business operated, both travelled extensively to host on-site operator training for clients worldwide. The relationships made and built on these visits have been maintained and those clients now feel comfortable contacting Hallmarq with any questions and concerns they may have.
Hallmarq has always taken a collaborative approach to working with its customers. From initial enquiry, through system installation, training and beyond they are committed to offering support at every step of the customer journey. It's a service model that the company works hard to preserve with the personal touch vital to building excellent relations. Founder Nick Bolas says:
"I've always thought of our team as the Hallmarq Family which includes our customers at every site. With over 130 MRI machines installed in 25 countries, the family keeps growing!"

Nick Bolas, Founder Director, Hallmarq Veterinary Imaging
The Q-Care Promise: Preventing Problems Before They Arise
Many of the daily tasks carried out by Dan and Suzanne fall within the Q-Care promise. Part of Hallmarq's company-wide commitment to supporting client success, Q-Care encompasses world-class support and is available to every customer.
The programme includes help with getting started with your standing equine MRI, as well as advice for marketing your new services to clients and referring veterinarians, access to exclusive content and materials on Hallmarq's Community Site, and attendance at Annual User Meetings.
Q-Care also includes a training element; initial training immediately after a new machine is installed comes as part of the package and means the customer can hit the ground running. Dan adds:
"Hallmarq offers continuous training, constantly educating clients with tips and tricks for utilising the software, working with patients in the magnet and getting better images".

Dan Mountifield, Hallmarq's Specialist Equine Account Manager, UK & ROW
Communication is Key
Although much of the team is now remote, training and support have been further refined to reflect this new way of working, and staying connected with the wider colleague base is vitally important. Nurturing internal communications empowers continuous learning about standing equine MRI and its uses. Even after resolving an issue, specific problems are shared for review and discussion on how they might be better resolved in the future, and this is fed back to the customer.
A key part of this role is to act as liaison between the customer and all relevant internal departments. From sales handover onwards, Dan and Suzanne ensure that training, marketing, clinical and technical support are all delivered to help support the growth of a practice. Regular individual, departmental and cross-company meetings help ensure that everyone is always up to speed. According to Suzanne,
"When you call your Account Manager, you can be certain to receive a speedy response. Rest assured, we're committed to working together to solve your problems faster and with far more than just 'service."

Suzanne Reese, Hallmarq's Specialist Equine Account Manager, Americas
As Suzanne and Dan each step into their new roles with Hallmarq, their extensive knowledge and experience put them and the company in a great position to continue building brilliant customer relations. Here's to our shared success.