Hallmarq celebrates 300,000 animal scans
For over two decades, Hallmarq's mission has been to improve animal health through increased access to advanced imaging solutions. True to our word, and with equine and small animal veterinary practices around the globe using our MRI and CT machines, we celebrate a landmark this month as we hit our 300,000th animal scan.
Where did it all start?
Co-founder Dr Nick Bolas had the initial lightbulb moment that kick-started a revolution in equine lameness diagnosis. A keen horse rider and reluctant to subject his own horse to general anaesthesia, the idea of equine MRI for the standing sedated horse was born. The rest, as they say, is history.
With a team of experts working alongside him – many of whom remain with the company today – the world's first Standing Equine MRI system was installed at Bell Equine in Kent in January 2002. Others soon followed as veterinarians worldwide became increasingly able to see a wide range of previously unknown pathologies with this safe, fast, and accurate modality. MRI is now acknowledged as the gold standard in lameness diagnosis.
Small Animals join Hallmarq's Equine Family
With Standing Equine MRI firmly established, 2012 saw the introduction of the company's first Small Animal 1.5T MRI machine as we worked to make advanced imaging accessible to a different customer base. Equine scans kept growing and Ansager Dyrehospital in Denmark saw us reach 50,000 scans that year.
As demand grew, it was clear that available space was an issue for veterinarians wanting to offer standing equine MRI to their customers. In response, 2013 saw our first Equine Modular Room installed at Veterinair Centrum Someren in the Netherlands. This unique solution provided a quick 'plug and play MRI' without the need for upfront capital expenditure or room build-out.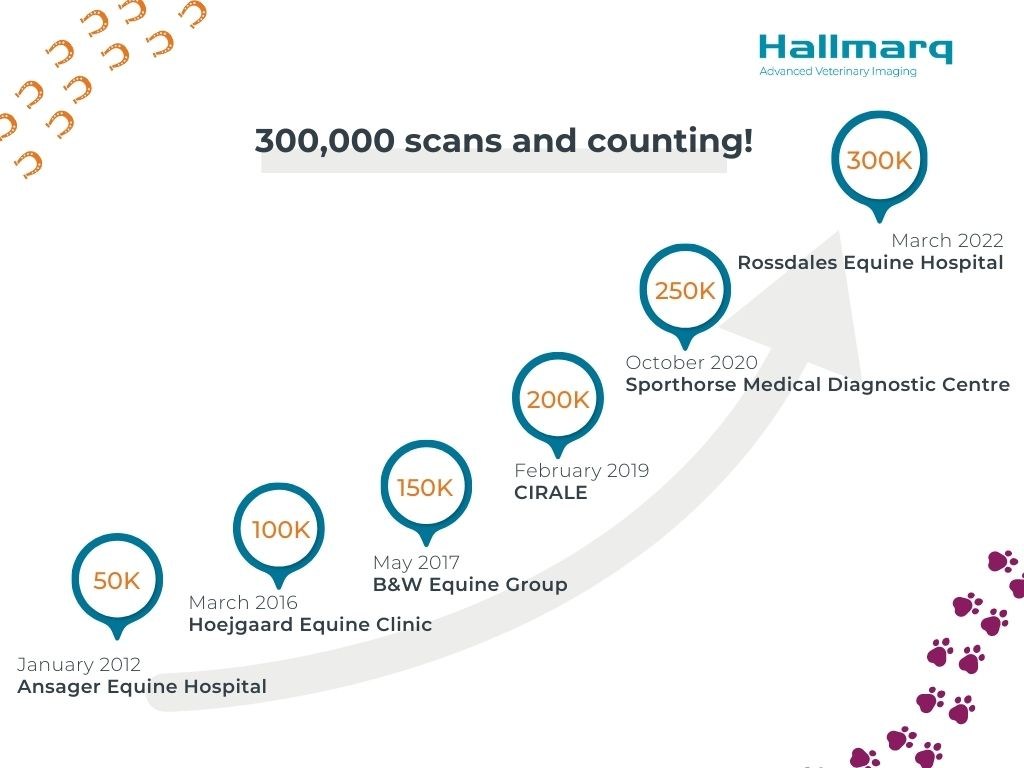 Innovation and Dedication
Two years later in 2015, Højgård Hestehospital in Denmark ran the milestone 100,000th equine scan and Hallmarq was recognized for its innovative technology. One of only two companies in the UK to win the Queen's Award for Enterprise in two categories, we were proud to be recognised for innovation and international trade. In addition, we were awarded the prestigious Institute of Physics Award for our Motion Correction Software, designed to compensate for the slightest movement of a horse's limb during image acquisition.
Not to be stopped, Hallmarq was listed as one of the FT1000's fastest-growing companies in Europe in 2017 and a Surrey Super Growth (UK) winner in the same year. B&W Equine Vets in the UK hit our 150,000th equine scan at the same time and 2018 saw our 100th site installed at Pferdeklinik Dalchenhof in Switzerland. New Head Office and manufacturing space in Guildford gave us space to grow people and products and our 200,000th scan happened at CIRALE in Brittany, France. It's fair to say, it was a whirlwind two years!
Standing Equine leg CT makes its debut
With an exclusive focus on imaging and over two decades of working with veterinarians in 25 countries around the globe, Hallmarq launched its Standing Equine Leg CT in 2020. As an additional tool for equine vets to fully evaluate and diagnose lameness, fracture and disease in the equine distal limb, safe, effective, and affordable 3D imaging is now available to every equine veterinary practice. In addition, the team at Sporthorse Medical Diagnostic Centre (SMDC) in The Netherlands ran the 250,000th equine MRI scan.
Improving animal health remains a priority for Hallmarq, as well as the customers we serve, and their patients. Working in collaborative partnerships with customers around the globe has been a privilege and, staying true to our mission, we are proud to have hit the 300,000th scan at Rossdales Equine Hospital in Newmarket, UK.
Thank you to all those who have been with us along the way, and a warm welcome to those who have recently joined us. The journey continues!