A Day in the Life of an Equine MRI Technician
As Lead MRI Technician for Wisconsin Equine Clinic, Sara Clark, CVT, plays a pivotal role in operating their Hallmarq Standing Equine MRI. Available to horse owners and their referring vets, MRI is diagnostic in over 90% of lameness cases and is considered the gold standard by equine vets around the world. Here's what Sara has to say about her work, and what a typical MRI scan entails.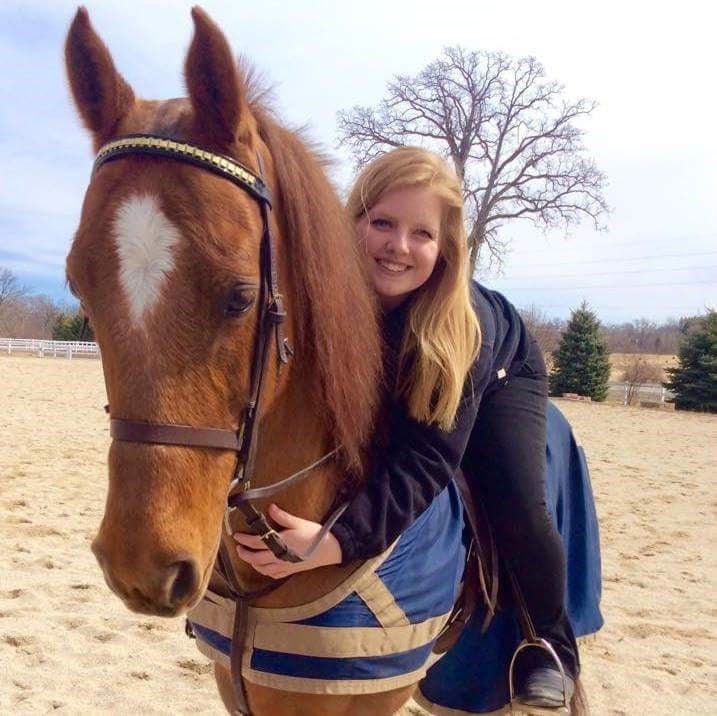 Why MRI for Lameness Diagnosis?
A Hallmarq customer since 2005, Wisconsin offers several diagnostic modalities as imaging becomes an increasingly important part of veterinary medicine. Enabling imaging of both soft tissues and bone in a way that no other diagnostic procedure can, MRI leads to a more accurate diagnosis, treatment plan and outcome for the patient's faster return to work. Sara understands the importance of this for the horse owner saying:
"It is these benefits that motivate many owners to have an MRI performed on their horse. In 2021 alone, Wisconsin Equine performed 120 MRI scans on the standing, sedated horse – over twice as many as in previous years and demand keeps growing."

Sara Clark, CVT, Lead MRI Technician at Wiscosin Equine Clinic
How does Equine MRI work?
Magnetic Resonance Imaging (MRI) uses radiofrequency waves to create the image of a selected area using a radiofrequency coil which is fitted around the horse's foot or leg and is not harmful to either horse or handler. Wisconsin Equine uses the Hallmarq Standing Equine MRI machine which has a 1.5T low field magnet and is less strong and less noisy than human MRI.
With the low field magnet, the patient stands for the entire procedure whilst using only minimal sedation, so reducing any risks that might be associated with general anaesthesia. MRI provides detailed images of soft tissues and bone which can aid the equine vet in finding a definitive cause for the horse's lameness, determining the severity of the injury, and how to appropriately treat and rehabilitate the patient.
Preparing the Patient
Patient care is at the forefront of every case that the practice sees. In most cases, the horse either has an acute lameness, meaning sudden onset, or a long-term lameness that isn't responding to therapy. Usually, other diagnostics, such as nerve blocks, x-rays, ultrasound, and bone scans, have been performed prior to MRI being considered.
Sara and her colleagues are used to the variety of questions that a horse owner will ask prior to performing an MRI. If the patent is being referred, the referring vet will also, typically, have questions and seek to gain reassurance for their client.
Prior to the MRI scan, a brief lameness examination is performed. This ensures that any historic lameness remains unchanged and confirms the area to be imaged. Preparing the patient for MRI includes removing the shoes and performing radiographs to ensure any metal fragments are removed from the hoof before imaging. Leaving metal pieces within the hoof dramatically affects the diagnostic value of the MRI. An intravenous catheter is then placed to facilitate sedation protocols and the patient gets a quick break before the procedure starts.
Performing a Standing Equine MRI Scan
Prior to performing the MRI, Sara sets the magnet to its proper position for the elected scanning area and says:
"With the Hallmarq magnet, we have the ability to scan a large area of the leg. We can scan as low as the foot and has high as the knees and/or hocks. Hocks? Yes, hocks!" 

Sara Clark, CVT, Lead MRI Technician, Wisconsin Equine Clinic
With the ability to scan front or hind limbs, the horse's natural sway means an increased likelihood of motion in images taken higher up the leg. This is where Hallmarq's award-winning motion correction software comes into play; designed to minimise artefact in the standing, sedated horse, the technology enables faster scan times. As Sara points out: "unlike human medicine, we cannot ask patients to stand still or hold their breath!"
Seen from Every Angle
Each area, such as feet, pasterns, fetlocks, etc., has a set number of scans and each scan has a different filter that highlights certain parts of the horse's anatomy. For example, Figure 1 shows a STIR image that highlights fluid and suppresses bone – ideal to see inflammation within the bones, soft tissues, or joint spaces. In comparison, the T1 image in Figure 2 shows a more basic image of the horse's anatomy.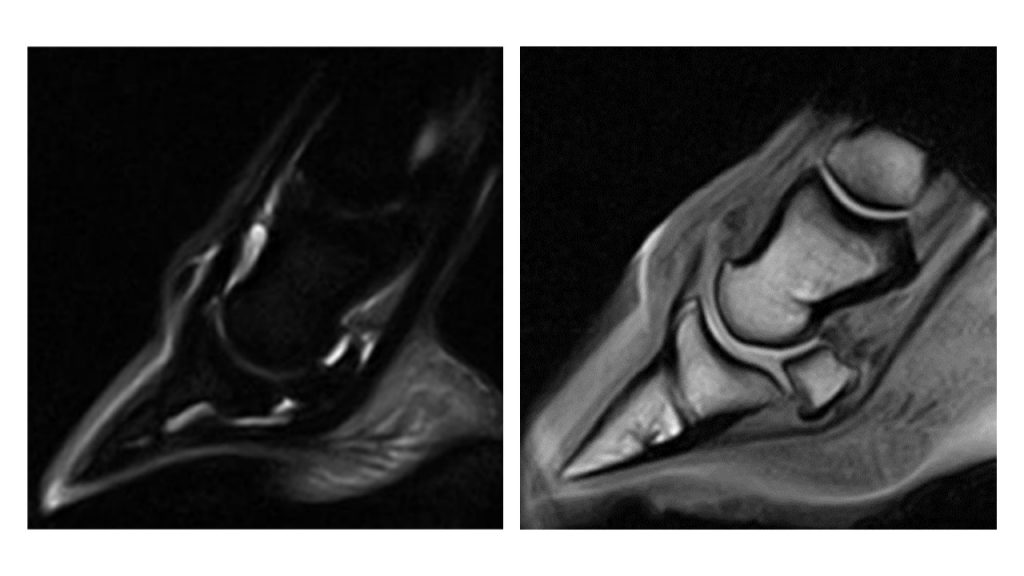 Using these filters, images of multiple different angles of the selected area are taken. This allows for the injury to be seen more easily and for the vet to make a more accurate diagnosis. Usually, the patient gets to listen to some great music during the procedure – Hallmarq has even created their own playlist! This helps reduce the horse's stress or reaction to any noise from the magnet and outside the MRI room.
Overall, the procedure can take 2-5 hours depending on patient compliance and the area being imaged. In addition, the opposite, or contralateral limb is also scanned, to use as a comparison.
Prognosis and Diagnosis
Once the MRI is finished, the images are sent to a board-certified radiologist to evaluate. The report is usually finalised within 24-48 hours and the results are fed back to either the referring vet or horse owner with an agreed treatment plan put into place. Depending on the injury, it is sometimes recommended to re-scan in 4-6 months to monitor the progression of healing.
None of this expertise happens overnight of course. Training to be an MRI Technician takes hours of application and dedication. Sara confirms that she received extensive onsite training from previous MRI technicians in addition to learning from Wisconsin Equine's practice owner Dr Langer, and specialists from Hallmarq Veterinary Imaging. After much training and lots of practice, she became a Hallmarq Certified Operator and was finally ready to hit the ground running. She adds:
"Learning how to perform an MRI has been one of the greatest achievements of my career. I greatly enjoy being part of a horse's care and to help find the answers you need to facilitate your horse return to soundness!

Sara Clark, CVT, Lead MRI Technician, Wisconsin Equine Clinic
Future Goals
With the goal of surpassing 120 MRI patients this year, we have no doubt that Sara and the Wisconsin team will beat their own personal best scan numbers. With account management offered as standard with Q-Care, Hallmarq's unique customer support programme, we'll be working alongside them to help scan more horses and continue their advanced imaging journey.
Wisconsin Equine Clinic & Hospital pioneered veterinary technology, being the first hospital in the area to offer digital radiography and MRI. They are proud to have a diverse team of doctors, all with unique specialities and areas of interest, allowing them to offer the most comprehensive solutions for your horse's health and wellness needs.
With thanks to Sara Clark, CVT, Lead MRI Technologist at Wisconsin Equine Clinic and Hospital.
See the full article here.