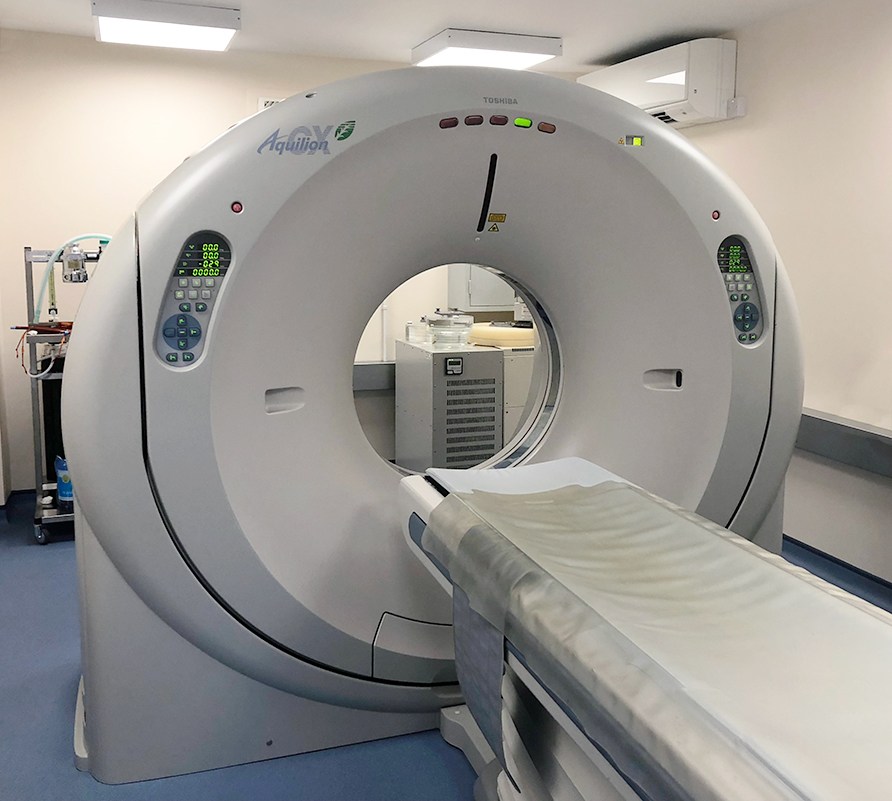 Introduction
Small Animal CT
16-80 slice CT systems to suit your individual requirements
Specialist clinical and engineering expertise
High-resolution detector with the smallest elements of any CT scanner – 0.5 mm
Fast scan times
Small footprint and low power consumption
Excellent low contrast resolution, perfect for imaging small animals
Download our brochure and read more.
Features
Features and Benefits
Easy to use
Quick, simple and accurate examinations even with minimal CT experience
Industry expertise
An imaging partner to help establish your CT service from scratch
Outstanding images
The outstanding feature on all Canon Medical CT is image quality, allowing for timely and more accurate diagnosis
Faster scan times
Shorter scan times reduces the need for general anaesthesia
Reduced running costs
Lower installation and running costs, and with less of your valuable practice space required
Engineering support
Canon's specialist engineering support and expertise
A CT service can break-even by scanning as few as 10 cases per month. As caseload increases,
significant returns are made on your investment.
Details
Clinical Uses
Abdomen and Thorax
CT is the advanced imaging modality of choice for the abdominal cavity. Additionally, contrast media can be used to enhance vascular and soft tissue contrast
Neoplastic Disease/Neoplasia
CT is the modality of choice for diagnosis and staging of metastatic disease
Elbows
CT is the most accurate tool for assessing elbow disease, in particular medial coronoid disease, due to the lack of superimposition of structures
Skeleton
3D reconstruction of images enables superior surgical planning of cases, for example fracture repair or angular limb deformity
Head
CT is invaluable in the assessment of nasal cavities, frontal sinus and dental disease
Emergency Imaging
CT offers speed of image acquisition and ability to assess soft tissue and bone extensively in the same image, for rapid and complete assessment of trauma cases "The recent installation of a Canon Medical 64 slice Aquilion CT machine has revolutionised our imaging capabilities. We are now able to diagnose and treat conditions we previously struggled with or referred to other centres."

Duncan Hole, MA, Vet MB, Cert VC, MRCVS Swayne and Partners "The collaboration between Hallmarq and Canon has been excellent with seamless and hassle-free installation, training and technical support."

Duncan Hole, MA, Vet MB, Cert VC, MRCVS Swayne and Partners
Updates
Case Studies & News