It was standing room only on Hallmarq Veterinary Imaging's booth at this year's 67th Annual AAEP Convention in Nashville.
A steady stream of enquiries came from vets keen to know more about their latest product, Standing Equine Leg CT (sICT). Their advanced imaging system provides equine practices with access to fast 3D imaging for enhanced evaluation of everyday lameness cases. In keeping with its mission to improve the lives of animals and the people who care for them, Hallmarq's slCT offers safe, convenient, and affordable advanced imaging for the standing, sedated horse.
While sICT is new to the US, it has been through development, and in clinical use in the UK, since early 2021 and is already benefitting the practices involved. "The standing leg cone-beam CT system from Hallmarq provides a safe, and convenient diagnostic modality to help produce a definitive diagnosis and guide the best treatment plan for equine patients. It also provides us with a valuable complementary tool in surgical planning when used in conjunction with our standing MRI" said Jonathon Dixon, BVetMed, MVetMed, Dipl.ECVDI, MRCVS.
Dixon, a European Specialist in Veterinary Diagnostic Imaging, and radiologist from Rainbow Equine Hospital in the UK is a current user of Hallmarq's slCT system and has been using it for several months now.
"The system was very straightforward to install and has a simple-to-use interface. Quick acquisition time and fine bone detail make surgical planning much easier."


Jonathon Dixon, BVetMed, MVetMed, Dipl.ECVDI, MRCVS.
The sICT system uses a unique dual-concentric ring design that enables the detector plate to remain very close to the region of interest, to optimise image quality. Hallmarq is one of the few companies to also incorporate motion correction technology to better ensure high quality, clear images in the standing patient.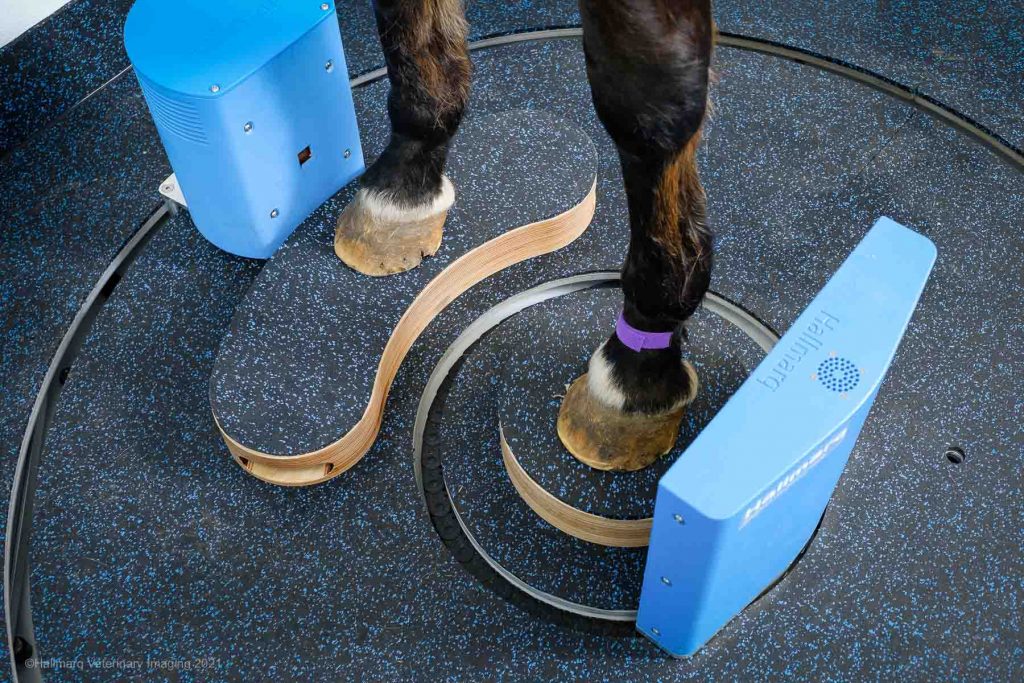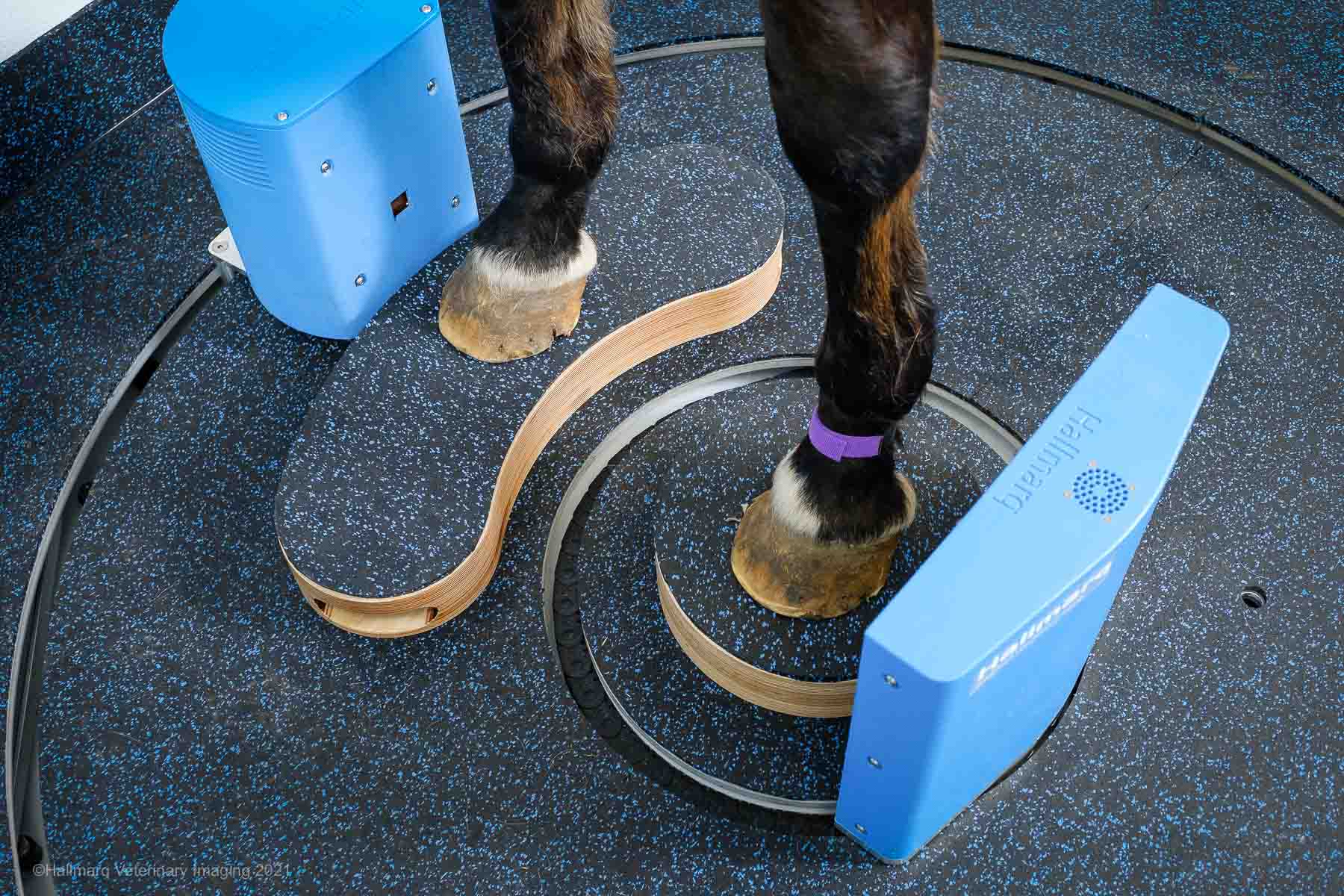 Advanced cone beam (CB) technology, which moves in concentric circles around the leg, collects high resolution, 3D images in just 60 seconds. Sub-millimetre resolution makes CB technology ideal for fine bony detail required in distal limb imaging and is ideal for evaluating pathology in bony structures
When using the sICT patient safety is assured with the horse handler remaining in the room throughout the process, behind lead shielding. In addition, the open low, flat platform ensures easy entry and exit for the sedated patient. Because the patient is sedated and not anaesthetised, any risk associated with general anaesthesia is removed when using this patented CT scanner, delivering peace of mind for the horse owner.
"Our sICT system creates an incredible business opportunity for equine veterinarians, who can now offer advanced imaging to more horse owners. Profitability can be achieved in as few as 10 cases per month."

Mick Crosthwaite – CEO Hallmarq
Crosthwaite goes on to explain that the compact system can be installed in almost any existing practice space, and monthly payment plans make it very affordable. It also comes with comprehensive system support backed by Q-Care, Hallmarq's unique customer care programme designed to assist vets on their advanced imaging journey.
In addition to speaking with Dr Dixon about his positive experience with using the Standing Equine Leg CT, those attending AAEP also had the opportunity to talk with key members of Hallmarq's Executive Team responsible for its creation and launch:

• Mick Crosthwaite – CEO
• Dr. Jos Belgrave – Former Hallmarq CEO and current non-executive board member/director
• Dr. Nick Bolas – Founding Director and the inventor of Hallmarq's slCT
• Annie Makin – Chief Customer Officer
• Lynn Bender – Chief Marketing Officer
• Dr. Holly Johnson – UK Account Manager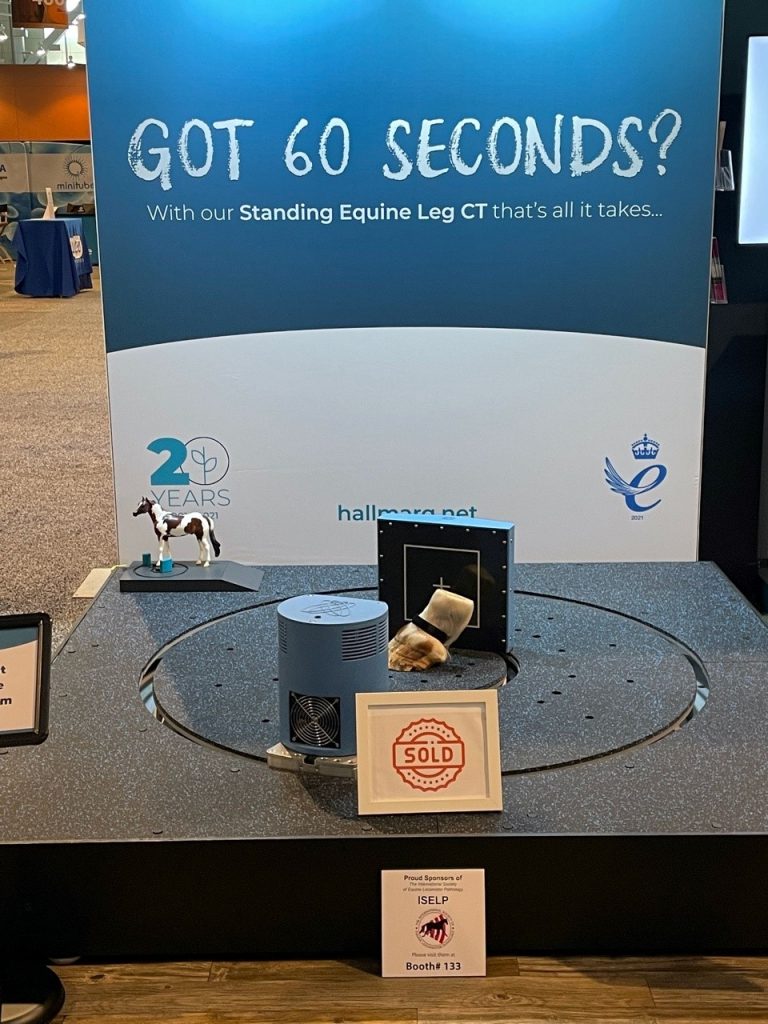 Hallmarq was also proud to sponsor one of AAEP's educational sessions on Wednesday, December 8th, the Imaging Session which included talks from experts in the field.