The 2022 World Horse Welfare Annual Conference centred around the question "When does use become abuse" and follows the current exploration into the social license to operate (SLO) for equestrianism. The thought-provoking day saw speakers from across the globe share their expertise, and experience on matters ranging from working equids to high-level competition horses.
We were delighted to have a representative for both Hallmarq and VetCT attend the conference and join the discussion. Read on for a summary of the event
Can we do better?
As members of the equine society, it is easy to acknowledge the care, dedication and high welfare status we see, and assume all is well within the community.
However, as highlighted in US eventer Matt Brown's presentation, we all need to continually ask ourselves if we can do better. Matt shared an honest account of his career and how he has changed many of his practices over time to be a kinder horseman. He shared questions he asks himself at the end of each day. They include "Am I happy with how I handled the horses today?" "Did I help the horses become more comfortable and confident?" "Was I able to catch myself becoming frustrated and stop to rethink my approach?" and "Did I let external pressures control how I worked with the horses".
Likening the current SLO conversation to the #MeToo movement, he expressed that instead of turning a blind eye to behaviours that once were common practice but are now no longer acceptable, we must be willing to call out this behaviour when we see it.
Changing public perception
It was discussed that the line between use and abuse is not as black and white as we may like to believe. World Horse Welfare Chief Executive, Roly Owers, addressed the hybrid audience in his keynote speech. Roly highlighted that despite World Horse Welfare working and reflecting on this question for the past 100 years, never before has there been such a need to ask, 'When does use become abuse?'
There are mixed views on what is use and what becomes abuse in the public perception, the equestrian community, and indeed even between vets. This, he reasoned, is due to three factors:
The digital world developing and allowing for more online content and debate
Society's values changing and becoming increasingly suspicious of traditional uses of horses
Thanks to advances in science, we know more about what horses (or any animal) truly need, and how our actions impact on them
WHW CEO Roly Owers discusses how the use of horses in sport and competition is a highly debated subject. Each year, the voices calling for racing and other equestrian sports to be banned, get louder. It is the industry's responsibility as a whole to address these concerns and proactively work together.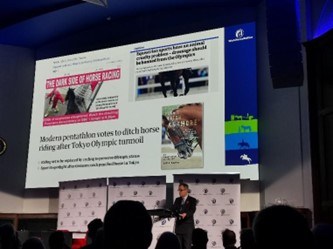 Increasing access to advanced imaging
The use of advanced diagnostic imaging to increase the safety and welfare of racehorses is increasing. Using advanced imaging such as CT before races is becoming increasingly commonplace, helping to identify those horses who may suffer catastrophic injuries if they were to run. Hallmarq has developed state-of-the-art standing CT and MRI scanners, designed for on-the-day efficient ease of use.
Access to remote equine imaging specialists via teleradiology services such as that offered by VetCT means rapid, high-quality advanced diagnostic imaging and interpretation for horses has never been easier. These modalities are not just for racehorses, however, with horses from companion animals to competition horses having increased access to this technology, providing prompt and accurate diagnoses as championed by our recent #imagemorehorses campaign.
The horse-human partnership
Attendees of the conference were treated to a presentation from Mark Wentein, editor of Belgium's equine magazine HIPPO and Chair of the European Horse Network. He explained how practices surrounding Bruges' horse cab services have evolved to improve horse welfare. Whereas horses once worked gruelling shifts with inadequate rest; guided by vets and animal welfare groups there are now new stringent rules in place ensuring better working conditions for the horses.
The city of Bruges recognised the economic, environmental and historical importance of horse-drawn cabs and has found a solution to maintain the horse-human partnership in the city while prioritising horse welfare.
Challenging traditional practice
The lively discussion panel included Professor Christine Middlemiss MRCVS, Chief Veterinary Officer, alongside fellow vets Dr Sarah Coombs and Dr Amber Batson with Bluebell Brown from the RVC and Lee Mottershead, Senior Writer at the Racing Post, chaired expertly by Sky Sport's Nick Powell.
The Question: "How can we create greater consensus in the horse world over what is use and what is abuse?" sparked fascinating insights from the panel.
Bluebell opened with the concept that we must simultaneously come together as an industry whilst being open to change and prepared to listen to the views of others. Lee raised how stabling racehorses, a well-accepted husbandry protocol, may well come into light soon as being abuse. He commented that only by being challenged on our practices can we move standards forward.
Sarah confirmed this view, explaining how already some trainers are increasing turnout time to allow horses to express more 'horse-like' behaviour and agreed that we must challenge the status quo. She recognised that there is most likely a consensus on the 'low hanging fruit' of abuse, but that the difficulty will come in challenging traditional practices and continuing to question if we can do it better.
For the love of the horse
When asked how the welfare of horses can truly be put first in the context of competitive, commercial and social pressure, it was pointed out that people who get involved with the equine community, be it for competing or commercial purposes, do so because they love horses. As such, none would be comfortable neglecting welfare. Once again, it comes back to being very honest with ourselves and the community about what we are doing, why we are doing it, and asking if there is a way we can do it better.
Putting it into perspective
The closing address was summarised in an extraordinary speech given by World Horse Welfare President, Her Royal Highness, The Princess Royal. She highlighted that to discuss such a complex issue as this, it is imperative to have perspective.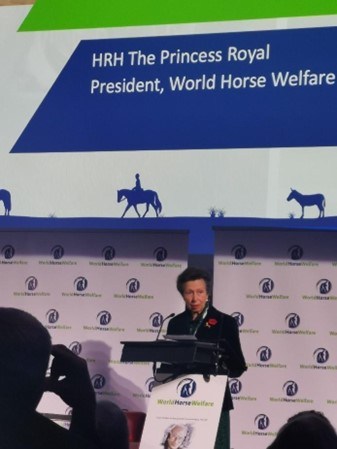 HRH The Princess Royal explains how perspective can be different from horse keeper to horse keeper, and that those differing perspectives can create a divide between those who have grown up with differing attitudes towards horses.
She acknowledged the work we have to do in bringing perspective to 'non-horse' people, and had empathy for their feelings when their only encounters with horse sports were negative media headlines, with no real perspective on the number of horses that are involved with humans.
Recognising our responsibility
She also raised an interesting point that humans' relationship with horses goes back thousands of years and that our survival was intertwined. Horses being bred during that time were bred to work with us, and have evolved as such. Realising this shines a light on our responsibilities to care for them.
Credit to our guest blogger Dr Fiona Farmer BVSc MRCVS at Companion Consultancy for this insightful article.